Supercomm: US CTO Reaches Out to Telcos
CHICAGO --
Supercomm 2009
-- The Obama administration wants to forge partnerships with service providers to support a bevy of ambitious technology initiatives, Aneesh Chopra, the nation's CTO, said during his keynote this morning.
Chopra's full title is so long it requires its own paragraph: Chief Technology Officer of the U.S. and Associate Director in the White House Office of Science and Technology Policy.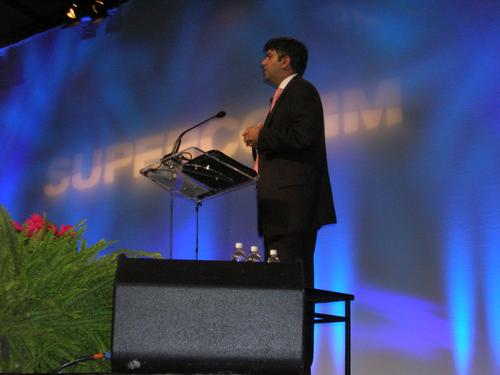 Chopra wooed service providers by calling their work an essential element in the plans of a heavily wired Obama administration. The president's plans involve lots of network connectivity, which in turn will rely on a "robust and vibrant telecommunications infrastructure," as Chopra repeatedly phrased it.
Chopra's message met with some skepticism. "How are we going to pay for it?" said one U.S. carrier employee, requesting anonymity. That attendee's suspicion was that the initiatives Chopra described would result in higher corporate taxes and stricter enforcement on the telecom industry. "We all want a national broadband initiative, but are you going to
make
us go there?"
The Obama administration has already talked about making investments in areas such as cloud computing, remote healthcare, and distance learning. To make those work, Chopra said, the administration wants to get closer to the telecom world (cable providers included), not only to get the infrastructure built, but to try to generate new ideas for how to use it.
"Together we might unearth new public/private partnerships on all kinds of topics," he said.
As for the regulatory front, Chopra hinted that while the openness of the Internet is important, the administration feels some measure of control is necessary. That point came up as he talked about network security, which the Obama administration thinks is going to be crucial to the success of all these broadband intitiatives.
Chopra said the industry and the administration have to preserve network openness but also "strenghten our response with regard to cyber security. We must find a way to achieve both."
Chopra's talk came after telecom and cable each stated their broadband cases, in the form of keynotes from John Stankey, president of operations for
AT&T Inc.
(NYSE: T), and Patrick Esser, president of
Cox Communications Inc.
One attendee (from the cable side of the fence) focused on Esser's discussion of bringing broadband to lower-income communities, a "humane" angle that he thought was present in Chopra's talk as well.
"I think he was hoping the vendors and service providers here were going to embrace the same kind of attitude," said Jose Lugo, chief engineer of network design management with
Optimum Lightpath
, a division of
Cablevision Systems Corp.
(NYSE: CVC). "I'm glad to see the government becoming really involved in getting everyone in sync on getting broadband."
— Craig Matsumoto, West Coast Editor,
Light Reading
PARTNER PERSPECTIVES
- content from our sponsors