Shentel to Get Bigger Using Mix of Fiber, Cable & LTE Fixed Wireless
Shentel to Get Bigger Using Mix of Fiber, Cable & LTE Fixed Wireless
Regional operator Shentel says it plans to expand Internet access in part using LTE fixed wireless technology. Shentel, which offers wireless and wireline services across parts of Virginia, West Virginia, Maryland and Pennsylvania, announced a major new network expansion plan that includes building out Internet services to more locations using a mix of fiber, DOCSIS 3.1 and LTE fixed wireless technologies.
As a result, the company said it will raise its 2019 capex guidance from $150 million to $170 million, mostly to account for its entry into the fixed wireless arena. "We've got a lot of communities outside of our cable markets and our fiber-to-the-home markets where fixed wireless is a great option," Dave Heimbach, Shentel's COO, told Light Reading. Heimbach joined Shentel last year; previously he was the COO at Rise Broadband, the nation's biggest provider of fixed wireless services.
For fixed wireless, Shentel is spending $17 million for around 90MHz of spectrum licenses in the 2.5GHz band covering a total of 1 million POPs (points of presence, which is a common measurement of wireless coverage) across Virginia, West Virginia and Ohio, in a series of transactions the company expects to complete in the third quarter. Heimbach said the company's fixed wireless offering will eventually cover around 500,000 households, including 280,000 households in rural areas that today only have satellite or DSL Internet options. Shentel expects to offer those households fixed wireless Internet speeds of 25 Mbit/s to 50 Mbit/s, and eventually speeds up to 100 Mbit/s when capable equipment is available. Heimbach declined to say how much Shentel might charge for the service.
Figure 1: Shentel's Expansion Plans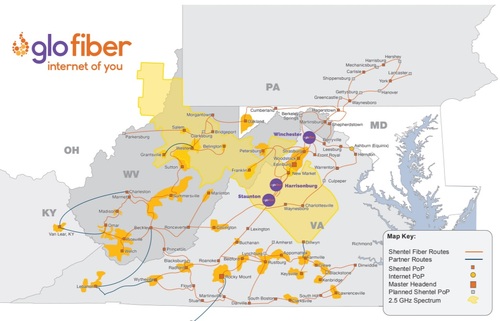 Source: Shentel
Heimbach said Shentel has not yet selected the vendors it will use for the fixed wireless buildout, but will spend around $3 million this year on equipment for the offering. He said the company plans to use LTE technology for the service, instead of a proprietary fixed wireless standard, because the company already operates an LTE network for mobility services for smartphones. "We feel more bullish about the long-term prospects of going the standards route," he said of using LTE.
In embarking on a fixed wireless buildout, Shentel joins a number of other regional and national telecom providers in using wireless technology to expand Internet access. Midco, U.S. Cellular, T-Mobile, C Spire, Windstream and others are also in various stages of launching fixed wireless technologies.
"The reason we are compelled by fixed wireless as the technology is that the cost per passing in those lower-density environments is far more economic than extending cable plant or fiber," Heimbach said during Shentel's recent quarterly conference call with investors, according to a transcript of the event.
Beyond fixed wireless, Heimbach said Shentel also launched a new fiber-to-the-home initiative, branded Glo Fiber, which he said will support multi-gigabit symmetrical speeds over a 100% fiber-optic network. Shentel's first Glo Fiber markets will be in Virginia -- Harrisonburg, Stanton and Winchester -- and will cover roughly 40,000 homes and businesses where the cost of passing will be less than $1,000, Heimbach said. He said Shentel's Glo Fiber construction has already begun in Harrisonburg, and the company expects to begin construction in the third quarter in Stanton and Winchester.
Roughly $22 million of Shentel's capex for 2019 will be devoted to the company's Glo Fiber initiative, while $33 million is earmarked for its DOCSIS 3.1 upgrades, which the company expects to use to enable gigabit speeds across all of its cable networks by 2020.
Interestingly, Heimbach said Shentel will eventually offer bundled services, including video, in addition to Internet access. The video portion he said would be supplied by MobiTV.
Shentel's network expansion plans were included in the release of the company's Q2 results. The company reported its operating revenue grew 1.5% to $158.9 million. In wireless, the company reported growth in both postpaid and prepaid customers, bringing its total wireless customer base to just over 1 million. Shentel operates as a Sprint affiliate, and offers service via Sprint brands.
— Mike Dano, Editorial Director, 5G & Mobile Strategies, Light Reading | @mikeddano
Subscribe and receive the latest news from the industry.
Join 62,000+ members. Yes it's completely free.
You May Also Like
---