Recovery Act: Everyone Wants to Rural the World
As
Light Reading
has been
charting
the effects of the Recovery Act on the world of telecom, we wonder: How much of the U.S. is really rural? How much is remote? And will the difference, as defined by the government's
Notice of Funds Availability
(NOFA), slow down some service providers from asking for federal help? (See
Recovery Act: Tier 2 Says 'No Thanks'
.)
As a starting point to answering those questions,
Light Reading
talked to
The Gadberry Group
. That research house uses a proprietary mix of consumer demographic data to create what it claims is the most up-to-date graphical view of occupied households and household population in the industry. And Gadberry says it can provide accurate information all the way down to a single city block.
Light Reading
asked The Gadberry Group to take the NOFA definitons for rural and remote areas and run them against their household data and see what that looks like on a map. Here is the result: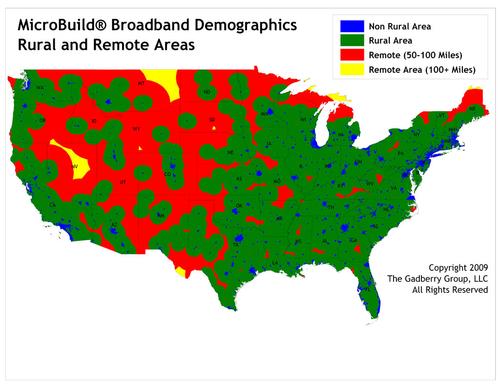 For a bigger version of the map, click
here
.
According to the map, rural states like Alabama and Mississippi are, under the NOFA rules, mostly not considered remote areas.
That's a big deal, because vendors like
Adtran Inc.
(Nasdaq: ADTN), which sell to Tier 2 and Tier 3 service providers in the region, fear those companies might hold back before applying for federal help.
Why?
Some providers have a feeling that NOFA, which uses a five-point scale to grade broadband funding applications, won't permit the awarding of five full points for service providers aiming at rural areas (like Alabama), compared to those addressing remote areas (like Wyoming). These service providers fear that not getting the maximum amount of funding available on a project -- a full 80 percent -- will force them to settle for some mix of grants and loans.
"If you're talking about an area that you haven't been able to afford to address because it was too expensive on a cost-per-home basis... having a loan [instead of an 80 percent grant] doesn't make your business case work," says Gary Bolton, Adtran's VP of global marketing.
What helped stir those concerns is the fact that no one knew what the NOFA criteria were until
after July 1
, a month before the original first-round application deadline.
It could be that some of this consternation comes down to this: The service providers guessed how the
Rural Utilities Service (RUS)
and
National Telecommunications and Information Administration (NTIA)
would classify remote and rural areas, and they got it wrong.
How many service providers will wait and apply for funds next year? And how will the agencies in charge of the NOFA award points when grading broadband applications? Our humble map doesn't answer those questions, but the answers should be forthcoming.
The NTIA says it will post data about the number of application submissions it receives at the
Broadband USA Website
. It will also post executive summaries of those applications in the coming weeks.
In November, the NTIA plans to begin announcing its first round of Broadband Technology Opportunities Program (BTOP) awards
here
.
— Phil Harvey, Editor-in-Chief,
Light Reading
PARTNER PERSPECTIVES
- content from our sponsors