Rogers Communications Inc. (Toronto: RCI), Canada's largest cable operator, confirmed that it is using fiber-to-the-home (FTTH) to power a new broadband service tier that provides upload and download speeds of up to 250Mbit/s.

The tier, called Rogers Ultimate Fibre Internet, is currently available only in parts of Toronto and the MSO's Atlantic region, which includes Moncton. The service comes with a monthly 500-gigabyte usage limit. Rogers has yet to provide pricing options for the new 250-Meg tier.

The new service outpaces Rogers's current top-end Docsis 3.0-based service, which, following a recent set of upgrades, maxes out at 150Mbit/s down and 10Mbit/s upstream and runs $122.99 per month (depending on how it's packaged). Customers of the 150-Meg tier are subject to a charge of $0.50 per gigabyte (up to a maximum of $100) if they exceed the tier's monthly 250GB data threshold.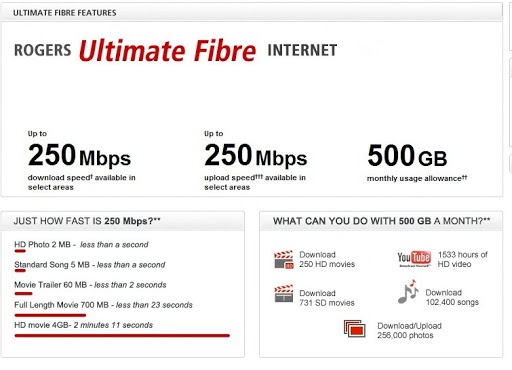 Outgunning Bell Canada
The new Rogers offering also outruns BCE Inc. (Bell Canada) (NYSE/Toronto: BCE), which, depending on the region, sells a symmetrical 175Mbit/s service (with a monthly 500GB cap) for $202.95 per month when bundled with other services.

Word of the Rogers fiber-fed tier began to spread on blogs such as Broadband Reports in mid-November. Rogers denied any characterizations that the 250-Meg service is a trial or test.

"[T]his is not a beta. ... Rogers is implementing a first market rollout of fibre to the home in select regions in Toronto and the Atlantic," a Rogers spokeswoman said via email.

She noted that the current, limited deployment is based on GPON and got underway in early November. Rogers isn't saying when or where it will expand the reach of the Ultimate Fibre Internet tier.

Rogers marks the latest major North American cable operator to use FTTH surgically for high-end speed tiers. Comcast Corp. (Nasdaq: CMCSA, CMCSK), for example, is using its Metro Ethernet platform for a new residential service that offers 305Mbit/s down by 65Mbit/s upstream. That Extreme 305 service, launched in the fall, is currently offered in several major markets in the Northeastern U.S., including Boston, Philadelphia, Baltimore and Washington, D.C. (See Comcast Gives FTTH a Shot .)

The latest generation of Docsis 3.0 chipsets can support downstream bursts of 1Gbit/s. Comcast, however, intends to use MetroE in the near term for Extreme 305 as it gauges consumer demand for the new tier, which is uncapped and runs $300 per month. (See Intel's New Docsis 3.0 Chip Guns for 1-Gig .)

— Jeff Baumgartner, Site Editor, Light Reading Cable