1:25 PM -- BRUSSELS -- Le Broadband World Forum Europe -- We knew something was up when the punters here in Brussels gave a unanimous response to our question, "What's the most interesting thing you've seen on the show floor this year?"

Given the nature of the event, we'd been expecting to hear about company X's GPON or company Y's WDM-PON. But instead, time after time, attendees told us, "You have to check out the coffee on the Fujitsu stand. It's amazing!"

I am not making this up...

That told us something about this year's event: It was either short on great exhibits, or Fujitsu Ltd. (Tokyo: 6702; London: FUJ; OTC: FJTSY) had hired one of the world's best baristas.

So we wandered down to the Fujitsu stand and, while we eyeballed the ports of the vendor's Euro-Flashwave 9500 and checked out its WiMax gear, we sampled the caffeine.

The coffee lived up to the hype. It not only tasted great, but it looked good too -- check out the full cup below.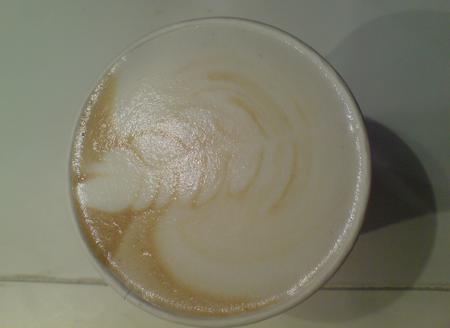 Fujitsu's secret was that it had, indeed, hired a top-class barista. Daisy (in action, below) teaches other people how to make good coffee, so she knows her stuff.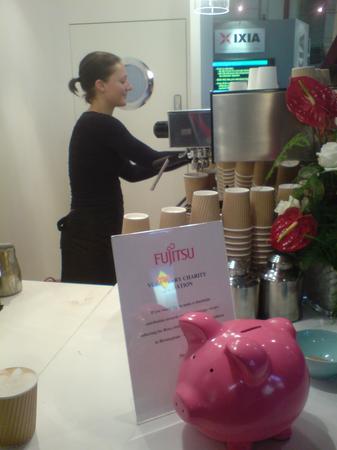 EuroBlog has always said the secret to a good industry event is a reliable wireless broadband service (which, in general, the Brussels event did have) and good coffee. That keeps the punters happy, and, after that, other stuff falls into place.

Fujitsu clearly won the unofficial 'Battle of the Baristas,' and so, not surprisingly, its stand was one of the busiest on the show floor.

Of course, other exhibitors were also offering a taste of java, but a few tastings (and a quick poll of other attendees) put Daisy's creations streets ahead of the espresso on offer at Nokia Networks , which, by virtue of a few recommendations, came in a distant but creditable second place.

If Fujitsu has its wits about it, it'll be signing up Daisy before it even thinks about the size of its stand at next year's broadband jamboree.

— Ray Le Maistre, International Food & Drink Editor, Light Reading