Global fixed broadband speeds increasing faster than mobile – Ookla
A new report from Ookla shows that fixed broadband speeds are gaining faster than mobile speeds globally. But overall, speeds are increasing across the world as countries continue to invest in fiber and 5G.
On the fixed front, download speeds for broadband services increased by 28% over the past year. That's compared to a nearly 17% increase for mobile speeds, according to Speedtest Global Index data from November 2021 to November 2022.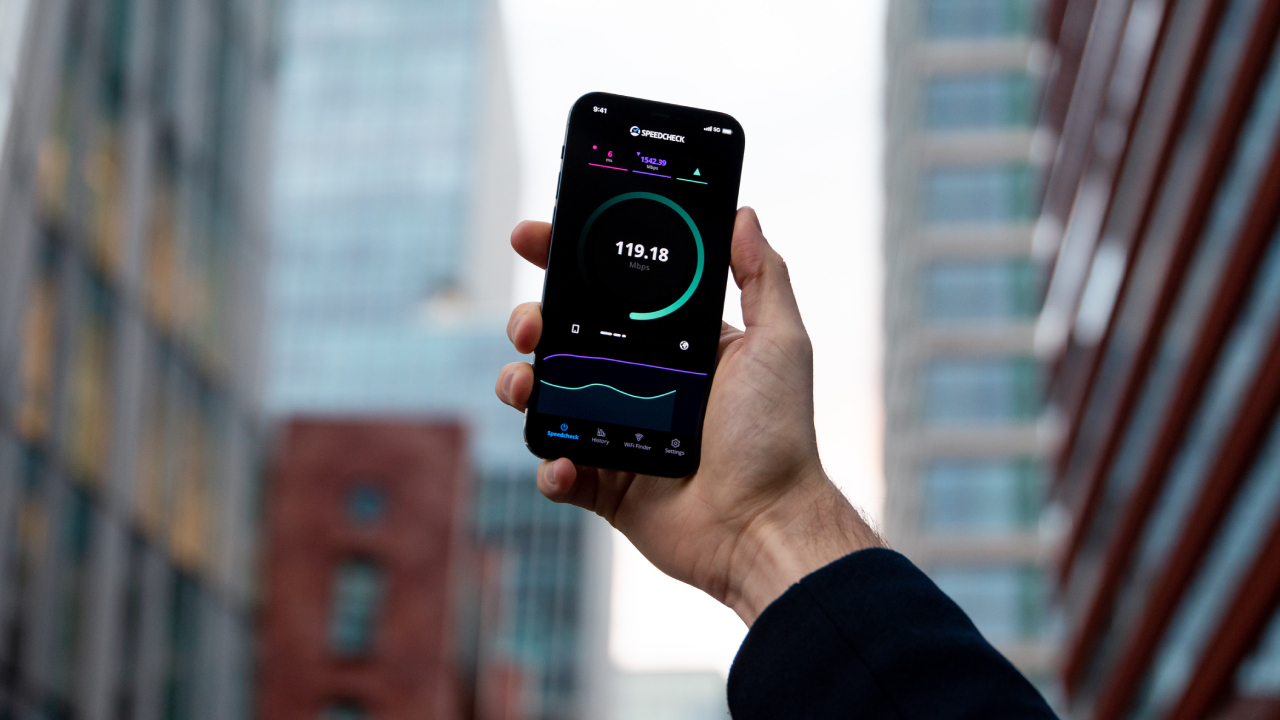 On upload speeds, Ookla's data showed that fixed is gaining faster there too. Data shows that mobile upload speeds gained by at least 9% over the past year, with fixed broadband speeds getting at least 30% faster.
The data showed minimal movement on latency for both fixed and mobile: "Latency, which is becoming an increasingly important metric, decreased on mobile over the course of the year from 29 ms in 2021 to 28 ms in 2022, while fixed broadband latency remained the same at 10 ms," said Ookla.
According to Mark Giles, industry analyst at Ookla, there are "many factors" contributing to the overall increase in download speeds globally, and the performance we're currently seeing on the fixed broadband front.
"When it comes to mobile download speeds, 5G is already well established in many mature markets. Therefore, much of the uplift from 5G technology was already highlighted in the 2021 numbers," said Giles in an email to Light Reading. "Additionally, as 5G expands its reach, median performance will most likely decrease. This is due to more consumers being present on these new networks, as well as greater availability in less dense urban areas utilizing lower-frequency spectrum."
On the fixed front, he added, the current uptick in fiber investment and other advancements are all playing a role.
"When looking at overall fixed broadband performance, growing penetration of fiber, with many regulators prioritizing efforts at speeding rollout, plus adoption of more advanced WiFi (such as WiFi 6 and 6E) can all be contributing factors to a large increase in overall world fixed download speeds," said Giles.
Ten fastest countries
While most of the same countries that made the top ten list for fastest fixed speeds in 2021 were on the 2022 list, there were a few notable shifts, including Chile's jump in download speeds over the year from 173.08 Mbit/s to 216.46 Mbit/s.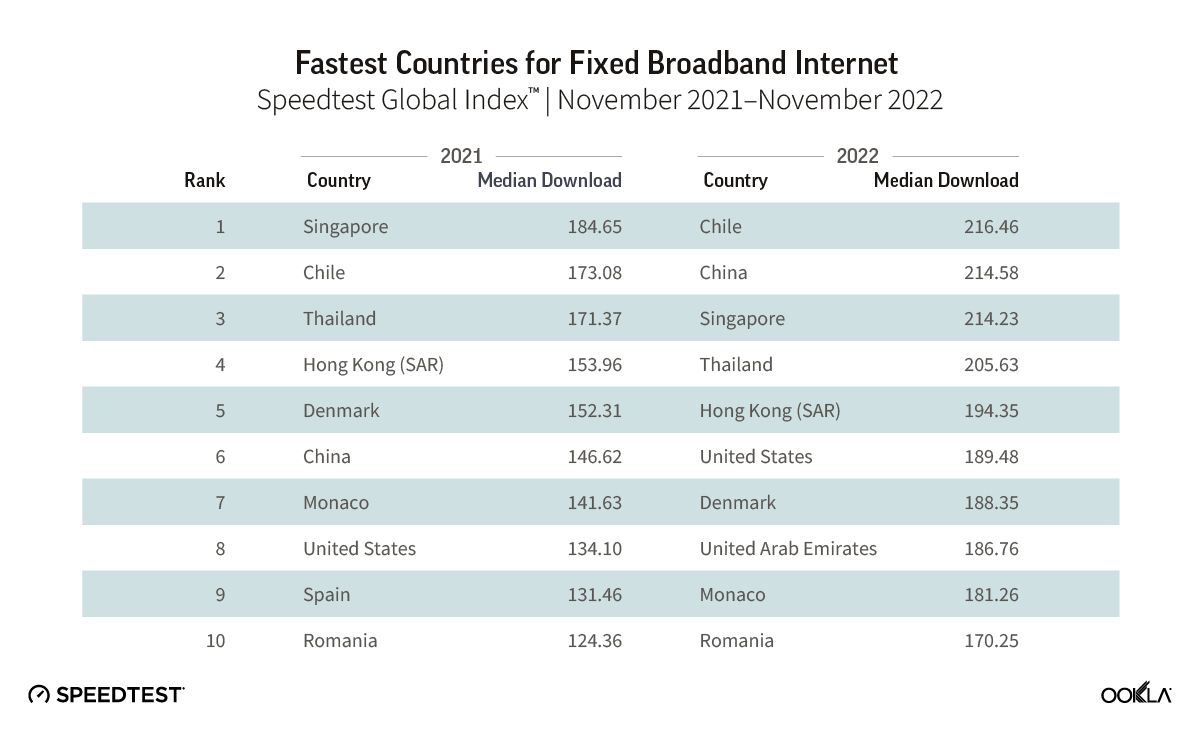 That increase allowed Chile to take first place, virtually tying with China (214.58 Mbit/s) and Singapore (214.23 Mbit/s), which both saw speed gains over last year.
The US, which jumped from eighth place in 2021 to sixth place in 2022, registered median download speeds of 189.48 Mbit/s in 2022.
The UK did not make the top ten for fixed broadband either year. Spain, which ranked ninth in 2021, fell off the top ten in 2022, making room for the United Arab Emirates (UAE) to join the ranking with 186.76 Mbit/s median download speeds.
On the mobile front, Qatar jumped to first place with a median download speed of 176.18 Mbit/s in November 2022 (versus 98.1 Mbit/s in November 2021). Qatar was followed by UAE at 139.41 Mbit/s.
Denmark (113.44 Mbit/s), Macau (106.38 Mbit/s) and Brunei (102.36 Mbit/s) made the list in 2022, replacing Saudi Arabia, Cyprus and Kuwait. Neither the US nor the UK appeared on the top ten list for mobile speeds either year.
Related posts:
— Nicole Ferraro, editor, Light Reading, and host of "​​The Divide" podcast.
EDUCATIONAL RESOURCES


UPCOMING LIVE EVENTS
June 6-8, 2023, Digital Symposium
June 21, 2023, Digital Symposium
December 6-7, 2023, New York City
All Upcoming Live Events
PARTNER PERSPECTIVES
- content from our sponsors