4:00 PM -- We all know the economy is kind of crappy right now. Now we know that AT&T Inc. (NYSE: T)'s Randall Stephenson knows it, too. Speaking today at a Citigroup investor conference today, Stephenson talked about the weaking economy and housing market and how it is affecting AT&T's business.

"We're really experiencing softness on the consumer side of the house from the economy," said Stephenson while noting that AT&T has had to cut off telephone and broadband customers for not paying their bills.

Stephenson's talk began shortly after 2:00 p.m. ET, and AT&T's stock has been in a free fall ever since and is currently down almost 8 percent since about 2:30 p.m. after trading flat for most of the day.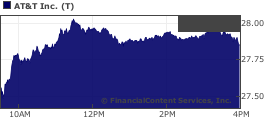 — Raymond McConville, Reporter, Light Reading