Verizon Communications Inc. (NYSE: VZ) has appointed Dick Lynch as Executive Vice President and Chief Technology Officer for the entire company. The position of CTO for the entire company is a new one for Verizon, which previously had only employed CTOs for each of its three main groups: Verizon Telecom, Verizon Enterprise Solutions , and Verizon Wireless .

Lynch, formerly the CTO of the wireless group, will now oversee the direction of all of Verizon's network, which includes its FiOS service and wireless service. A replacement for Lynch at Verizon Wireless has not yet been named.

The creation of a new CTO position is part of Verizon's decision last December to revamp its management structure. That plan had started first with the appointment of Denny Strigl to the newly created position of Chief Operating Officer. The aim was to create a structure that would allow the company to "focus more effectively on opportunities."

CTO Lynch will report to COO Strigl. It's still up for debate which executive has the coolest name.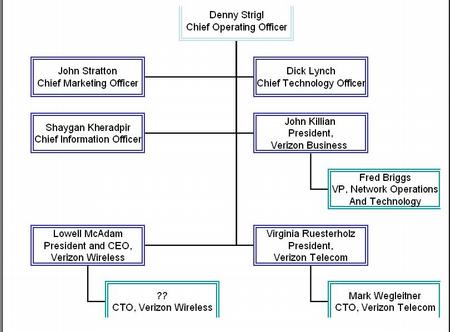 Lynch had been the CTO of Verizon Wireless since the company's inception in 2000 and was instrumental in the company's decision to go with CDMA as its wireless technology. The three group CTOs will continue to report to their respective group presidents.

— Raymond McConville, Reporter, Light Reading