The Devil's in the Details

Comment (0)
11:15 AM -- In examining
Comcast Corp.
(Nasdaq: CMCSA, CMCSK)'s second-quarter results, we need to look beyond the obvious in determining any significant trends affecting an industry bellwether with more than 24 million customers. (See
Comcast Profits Grow, Sub Adds Slow
.) The results were excellent from a profit standpoint, but a closer look at the
longer-term trends
is more revealing, as the MSO's basic video subscriber total continues to erode. With the broadcast digital transition, it would be logical to think an uptick in subs would be in order for 2009, but that did not materialize, perhaps indicating that over-the-air TV viewers signed up for other pay TV options.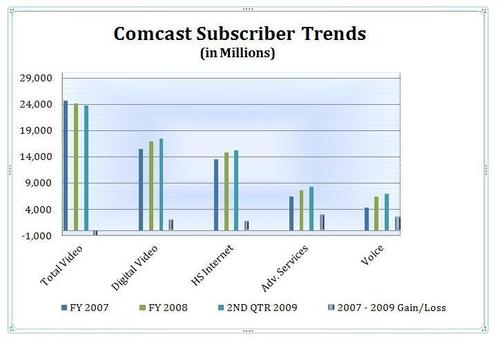 By the numbers:
Total customers continued to lose ground since 2007 (-4 percent), although a substantial part of the loss was in 2008.
Total digital video customers increased by a respectable 13 percent during the period from FY 2007 through the second quarter of 2009, but growth has slowed significantly this year.
High-speed Internet customers jumped by a respectable 12.7 percent during the same period, but, again, slowed this year.
Advanced service customers grew by 29 percent during that period, on track with the 2008 gains.
Voice subs grew by 57 percent during this span, but they are not on track to repeat the feat.
The average revenue per customer rose 16.6 percent during the period, indicating a strong up-sell of existing subs to advanced services.
In a final analysis, the trends involving the total customer base indicates a probable shift in consumer preferences to other telco and satellite options with more flexibility in price points. It continues as a slow and gradual shift, but one that should not be discounted. The impact in total subscriber numbers for Comcast is not that significant yet, as it seems to be more of a hint of consumer migration. But one has to ponder whether Comcast is targeting customers it wants to keep, and letting those that don't fit its business model migrate elsewhere. That raises questions about whether Comcast even wants to go after fickle customers who are churning out because they're looking for bargains, or is the MSO concentrating more on higher-value customers that best fit its business model, such as triple-play subscribers? That said, Comcast will likely try to preserve its current business model while both exploring and testing some of these consumer trends. Its analysts and strategic decision makers, I suspect, are burning the midnight oil to fight for (and ensure) a future competitive advantage. — Leonard Grace,
a cable industry vet, is a telecom strategist and blogger. He can be reached at
[email protected]
.
Special to
Cable Digital News