The COVID hangover: US fiber providers slow down
According to the financial analysts at Evercore, US fiber operators are significantly scaling back their network buildout efforts. Indeed, the analysts warned that the pace of residential fiber construction activity in 2023 "will be consistent with 2022 levels, and perhaps even a little slower."
That's a dramatic turnaround from just a few years ago, when analysts were cheering the "historic" fiber buildout plans of US operators like AT&T, Windstream and Frontier Communications. And throughout 2022, those operators mostly made good on their promises. According to a survey backed by the Fiber Broadband Association, US fiber providers collectively built connections to a total of 7.9 million more homes in the US during 2022 – "the highest annual deployment ever," boasted the group.
But today, at the beginning of 2023, many of those same providers have lowered their buildout targets for this year. According to the Evercore analysts, AT&T reduced its 2023 buildout goal by around 1.3 million locations; Frontier reduced its own goal by around 300,000 locations, and Brightspeed (the fiber operator stemming from Lumen Technology's $7.5 billion deal with Apollo) lowered its 2023 target by 482,000. (However, Brightspeed said in a statement that "there have been no changes in our targets.")
In total, the Evercore analysts noted that US fiber providers had planned to collectively build 9.4 million new locations during 2023, but now they expect that number to be around 6.5 million.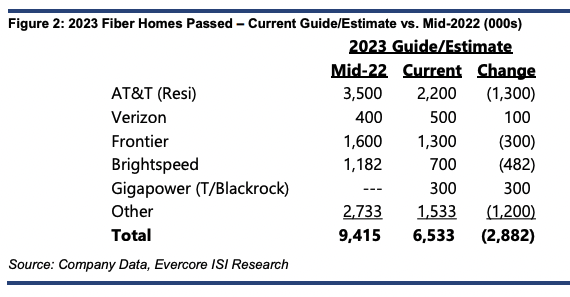 "We estimate US fiber providers (excluding cable operators) added ~6.5 million homes to their fiber footprint in 2022, up from ~4.5 million in 2021, with the bulk of the acceleration coming at AT&T," wrote the Evercore analysts. "The pace for 2023, however, is much more uncertain. ... In total, we expect build activity [in 2023] to be roughly consistent year-over-year at ~6.5M incremental homes passed."
The return on the investment
The Evercore analysts pointed to a variety of factors – ranging from inflation to sluggish home sales – as conspiring to cool the US fiber industry during 2023. Indeed, the Wall Street Journal just this week reported on yet another challenge for fiber operators: Upgrading aging utility poles owned by electricity companies.
But the most concerning element in Evercore's report is the firm's suggestion that fiber might not provide the ROI (return on investment) that sparked the fiber frenzy of 2020 and 2021.
"We believe that the slower-than-expected pace of fiber buildouts isn't simply a timing issue, with fiber deployments being pushed further out, but rather, a likely decline in the aggregate quantity of fiber upgrades and overbuilds to be performed over the next several years," the analysts warned. "We've heard multiple providers say that, on the margin, they're not seeing the ROIs they had been expecting, particularly from more recent builds, making them incrementally more cautious about future build plans. A combination of higher equipment and labor prices and somewhat greater build complexity has raised the cost per home passed. This, combined with incrementally increased competition from fixed wireless and cable upgrades, have lowered expected returns on incremental builds, particularly in an environment of higher debt capital costs."
And the situation may not improve anytime soon. For example, the financial analysts at MoffettNathanson – which recently released its own warning of a US fiber slowdown – wrote that "we expect labor cost pressures, in particular, to worsen."
To be clear, most of the operators building new fiber maintain a positive outlook on the space. "Where we're building [fiber], we are seeing better pen[etration] rates than we expected. We are seeing strong ARPUs [average revenues per user]. ARPUs on our fiber product are about $10 above that on our non-fiber broadband customers and intake ARPUs are even stronger than that. So we like the ARPU mechanics in the fiber business very much," said AT&T's Jeff McElfresh at a recent investor event.
But other providers, like Lumen, have hit the pause button on their fiber efforts as they recalculate their original buildout goals.
The COVID-19 backlash
In the midst of the COVID-19 pandemic, Internet connections routinely represented a critical lifeline for many Americans working and schooling from home. "There is now a political consensus that the country needs to get networks everywhere, and to everyone, and use the platform better to deliver critical goods and services," wrote the Wall Street analysts at New Street Research in a note to investors in 2020.
That situation drove both policymakers and investors to push billions of dollars toward the construction of speedy Internet networks throughout the US. For example, Congress set aside more than $40 billion for the NTIA's Broadband Equity, Access and Deployment (BEAD) program. And on the investment side, companies like Apollo, BlackRock and EQT pumped billions of dollars into big and small fiber providers in the US.
Now, though, the COVID-19 broadband party has ended in a fiber hangover. "The dust is beginning to settle nearly three years after the COVID shutdowns began. More aftershocks will follow heightening anxiety levels, and personal and corporate budgets are going to become tighter, not looser, due to lower confidence in future economic conditions," wrote Jim Patterson of Patterson Advisory Group in his weekly newsletter. "We survived COVID, but the resulting world changed – a lot."
And the Evercore analysts warned that the economic calculations around fiber will only get more difficult from here on out. "In general, fiber network operators (both upgraders and overbuilders) have started with the relatively low-hanging fruit," the analysts wrote. "Fiber builds don't get easier from here."
Indeed, there are almost half a dozen fiber providers targeting Mesa, Arizona – a situation that will undoubtedly result in winners and losers.
That's likely why big companies like Comcast, Charter and AT&T have begun hinting that they'll chase US government fiber subsidies in a way they haven't in the past.
Related posts:

— Mike Dano, Editorial Director, 5G & Mobile Strategies, Light Reading | @mikeddano
PARTNER PERSPECTIVES
- content from our sponsors