It may be difficult to boil down a major tradeshow to just five items and trends, but we'll give it a try. Cable's wireless and advanced advertising activities could've easily made this list, but we've got those covered in our bulleted wrap-up on Page 2 of this story.

Down with OTT
Walt Disney Co. (NYSE: DIS) CEO Bob Iger set the stage by saying ABC is interested in developing a Web TV strategy in cahoots with cable MSOs, but doesn't think access to all of the network's Internet-fed content should be weighed down by a separate cable subscription.

"We don't believe in adding restrictions on the ABC content," he said, later adding that Disney is at least "open" to MSO ideas about an authentication model that would give customers access to more Web-sourced content from Disney and other programmers as part of their regular cable video subscriptions.

Comcast Corp. (Nasdaq: CMCSA, CMCSK) chairman and CEO Brian Roberts downplayed the threat of online video. "I think it's a friend, not foe," he said. Web TV "is powering our broadband business. For programmers, it's a new opportunity… in this horrific advertising environment."

Comcast has some skin in this game, as its Fancast video Web hub will certainly play a central role in the company's coming "On Demand Online" product. Online video offers a "great opportunity for us to find an additional revenue stream," Roberts said. (See Cable Web TV: Results May Vary and Cable-Led Web TV Deals Still Forming.)

Suddenlink Communications CEO Jerald Kent likes the idea of providing cable subs with access to video on different devices at different locations, but he warned that it may be a tough policy to police. For example, he wondered if customers who own second homes should be able to pay for just one subscription that can be used across residences.

Multi-room DVRs
The domestic cable industry's top box makers -- Motorola Inc. (NYSE: MOT) and Cisco Systems Inc. (Nasdaq: CSCO) -- both got into the multi-room act. Motorola said it scored a deal to develop a multi-room DVR product for Time Warner Cable Inc. (NYSE: TWC) based on the vendor's "Follow Me TV" tru2way set-top software platform. That software will ride atop Moto's tru2way-based DCX3400-M and DCX3200 set-tops. Deployment is expected to get underway later this year. (See TWC, Moto Team on Muli-Room DVR .)

Cisco introduced the Explorer 8600HDC DVR set-top series, which support tru2way and whole-home DVR apps. TWC, Bright House Networks , and Cox Communications Inc. have already committed to roll that out, also in 2009. (See Cisco Beefs Up Cable Set-Top Line and Cox Preps Multi-Room DVR.)

Macrovision Solutions Corp. trotted out some new navigation systems with multi-room DVR capabilities, including the Passport Echo 3.5 and i-Guide A28. Comcast has access to the i-Guide product through the GuideWorks LLC joint venture with Macrovision. Both Macrovision guides are slated to become available in the fourth quarter and run on Motorola's Multimedia over Coax Alliance (MoCA) -enabled set-tops.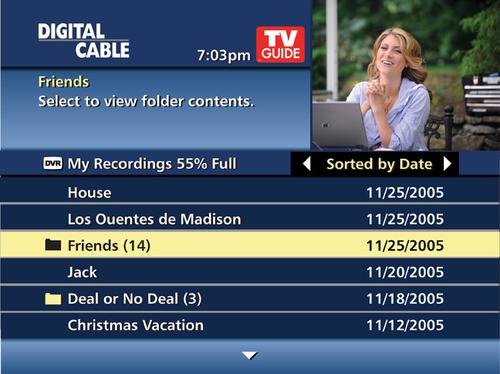 The most obvious reason for cable's sudden interest in multi-room DVRs is competition, as both Verizon Communications Inc. (NYSE: VZ) and AT&T Inc. (NYSE: T) have already beaten cable to the punch with products of their own. (See AT&T Launches Whole-Home DVR.)

The other is simple economics. Pricing on MoCA silicon is dropping dramatically thanks to the development of system-on-chip products from both Entropic Communications Inc. (Nasdaq: ENTR) and Broadcom Corp. (Nasdaq: BRCM). Although not every MSO has openly agreed to adopt MoCA, most are expected to do so. (See Broadcom Offers MoCA and Entropic, Cavium Connect on MoCA.)

In the tru2way world, ultrawideband-over-coax remains a significant underdog. In January at the Consumer Electronics Show, Sigma Designs Inc. (Nasdaq: SIGM) was selling a story that the window was wide open for its ultrawideband-based implementation for the cable industry. One cable engineer at last week's show told Cable Digital News that such claims are simply "wishful thinking."

Next Page: 3D & IPTV