Signs of CCAP
5:15 PM --
Arris Group Inc.
(Nasdaq: ARRS) has been very selective about who gets to see the E6000 Converged Edge Router, the company's first integrated
Converged Cable Access Platform (CCAP)
, a product that packs both cable modem termination system (CMTS) and edge QAM capacity in the same chassis. The super-dense platform is expected to play a big role in cable's IP video transition.
According to some cable operator engineers, Arris has been showing the E6000 to MSO execs and other VIPs at recent tradeshows, but keeping it hidden behind closed doors from all other prying eyes.
An Arris spokesman says the company is still finalizing when the E6000 will have its coming-out party, but it would seem that the
Society of Cable Telecommunications Engineers (SCTE)
Cable-Tec Expo
(Oct. 16-19) in Orlando would be a logical choice for Arris to make the big reveal.
Casa Systems Inc.
, by the way, unveiled its CCAP platform at this year's Cable Show. (See
Casa Puts Heat on Cisco, Arris & Motorola
.)
But Arris did offer a sneak peek of sorts this week in the
slide deck
it presented at its investors' conference, as several slides showed an image of its latest handiwork: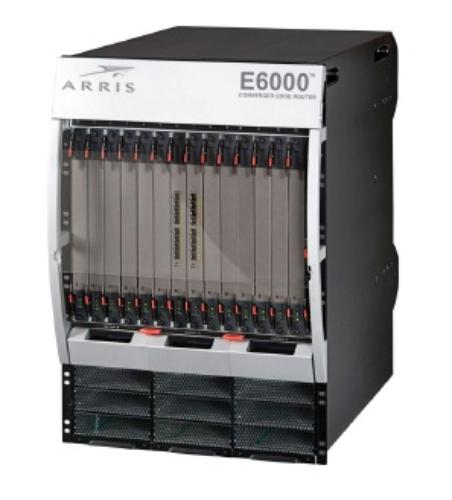 Arris is also mum on precisely when it expects the E6000 to go commercial (it still has to protect its inventory of CMTSs and edge QAMs, after all), but the company's already been saying that it's on track to be in CCAP field trials later this year.
Comcast Corp.
(Nasdaq: CMCSA, CMCSK), Arris's largest customer and one of CCAP's big champions, will likely be among the first to kick the tires. (See
Comcast Issues CCAP RFP
.)
At this week's conference, Arris positioned the E6000 as a future growth engine, seeing it as its "workhorse" for high-density, high-bandwidth cable applications. Its hope is that its CMTS flagship, the C4, will keep chugging along and gaining share in "less dense, metro areas." (See
CCAP Market Is Cisco's & Arris's to Lose
.)
But this slide does offer an indication on when Arris sees the E6000 gaining traction -- somewhere around 2014 as cable's downstream service group bandwidth approaches 1Gbit/s: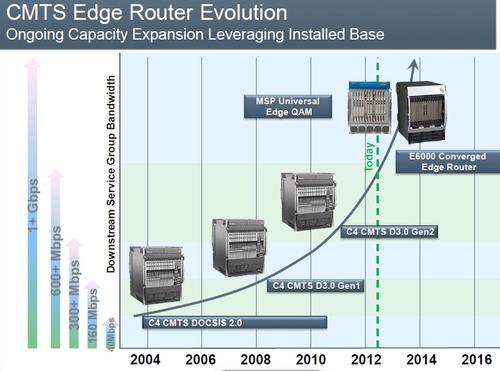 — Jeff Baumgartner, Site Editor,
Light Reading Cable