Service providers operating in areas hardest hit by Hurricane Sandy say they are making progress on restoring services, but the job's not nearly done. (See Service Providers Assess Sandy's Impact and Carriers Brace for 'Frankenstorm' .)

As of 10 a.m. ET Thursday, the number of cell site outages in areas affected by the storm had declined from about 25 percent to 19 percent, while cable-related outages had dropped to from 25 percent to roughly 12 percent to 14 percent, according to a statement from the Federal Communications Commission (FCC) .

Among individual service providers, Cablevision Systems Corp. (NYSE: CVC) said that as of 10 a.m. ET Thursday 1.6 million homes in its northeastern U.S. systems were still without power, while just 7,265 homes with power were without cable services. Here's how the situation looks in grid-form: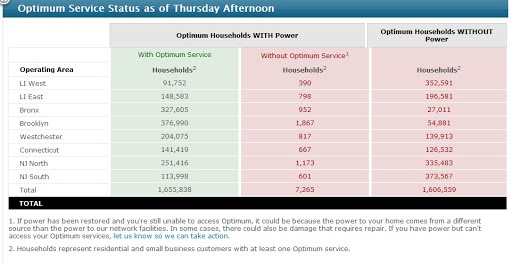 A larger version of the chart above can be obtained here.

"Following this unprecedented event, loss of electrical power continues to be the primary cause of widespread disruptions of Optimum service," Cablevision said in a statement.

Cablevision said 28,264 of its Wi-Fi hot spots in its Tri-State service area were operational at last check, and that 63 of its 64 transmission facilities in the region are operational. Only its facility in Seaside, N.J., remains out of service.

Verizon Communications Inc. (NYSE: VZ) said Thursday that it's making "substantial progress" in restoring services, noting that customers are able to charge their devices at "many" Verizon FiOS and Verizon Wireless stores and at mobile stores-on-wheels deployed to hard-hit parts of New Jersey and New York. Verizon wireline customers can receive updates at this site.

Verizon has also restored backup power to four "critical facilities" in Lower Manhattan, including the company's headquarters at 140 West Street, and one on Long Island that incurred flood damage and lost commercial power. Here's a photo of the flooding in the Verizon lobby that the company tweeted on Monday night, when the water was about three feet high.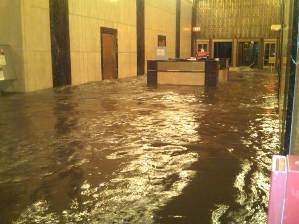 Service providers are also extending goodwill in the wake of the storm. The Verizon Foundation has donated $100,000 to the American Red Cross, and the company is matching employee donations to that organization and the Salvation Army, two-for-one, up to $1,000 per employee. Verizon Wireless's text-to-donate campaign, meanwhile, has generated more than $230,000.

Time Warner Cable Inc. (NYSE: TWC) has donated $600,000 toward Hurricane Sandy relief efforts: $500,000 to the Mayor's Fund to Advance New York City, and $50,000 each to The American Red Cross of Northeastern New York and The American Red Cross of Northern New Jersey.

TW Cable has also deployed mobile charging stations and unlocked Wi-Fi access points in areas of Lower Manhattan and Staten Island that are still without power. Comcast Corp. (Nasdaq: CMCSA, CMCSK) has also opened up its Wi-Fi network in areas impacted by the storm.

For links to telecom-related Sandy news from Light Reading and elsewhere, see Hurricane Sandy Updates.

— Jeff Baumgartner, Site Editor, Light Reading Cable