Qwest Delivers IPTV Confusion
Over the course of the past year
Qwest Communications International Inc.
(NYSE: Q) has been hard at work, in various cities across the country, pounding the pavement and making a case with city leaders. The issue at hand? Qwest can deliver a competing cable television service to the consumers. (See
Qwest Blazing Trail for Video
.)
In Portland, Ore., Qwest marched into the city proclaiming that it would bring the competition to the cable incumbent Comcast that Portland had been craving for years. In at least two different presentations, Qwest handed out maps of the city indicating where it would upgrade its bandwidth speed from the current 1.5 Mbit/s to 3 Mbit/s range, to its new FTTN network delivering at least 20 Mbit/s.
The reason for this bandwidth increase according to Judy Peppler, president of Qwest Oregon, was to have to capability to deliver video to Portland. "I think we've come to an agreement that you could support that will bring the benefits of video competition to the citizens of Portland," said Pepper to Portland city leaders in July. See for yourself, right
here
.
Qwest said it planned to have the video service available to 20 percent of Portland's territory after four years and 50 percent after six years. Qwest remarked during the presentation that it was proceeding conservatively because it "was not sure how successful it would be competing against an established incumbent like Comcast."
Here are the two most notable slides from the presentation: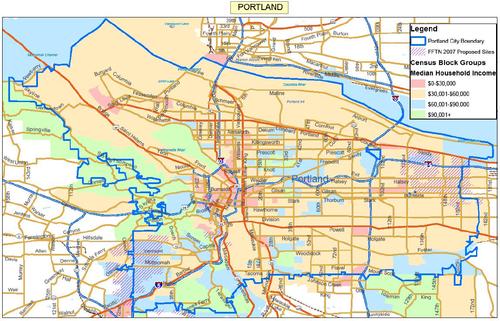 Sounds like a pretty solid plan right? Before you answer, let's welcome the new Qwest CEO Ed Mueller.
"We're not committing to a Verizon or AT&T whole video rollout -- we're not becoming a TV provider," said Mueller in a report by the
Denver Post
over Thanksgiving weekend. Mueller made similar comments during the company's third quarter earnings call as well. (See
Qwest to Spend up to $300M on FTTN
.)
Mueller is currently conducting a strategic review of all of Qwest's businesses as he tries to figure out what direction to take the company in the future.
Depending on his findings, Qwest may not go through with the plans it has recently flogged before city leaders in Portland, Ore., Colorado Springs, Colo., and Arvada, Colo.
And there's also a chance it won't act to bring TV service to the Colorado cities of Aurora, Broomfield, Castle Rock, Centennial, Jefferson County, Littleton, and Thornton -- all locations that were mentioned in its previous video franchise applications.
So, after all that, is Qwest really going to back away from being a residential video provider?
"We hope they don't do that," said David Olson, the director of Portland's cable and franchise management office when reached for comment. "It's better to have the prospect of competition than no competition at all, but I hope they do it."
Olson says that he expects Qwest will deliver on its plans to compete with Comcast, but admits he isn't sure when that will happen. "If they don't do it within 72 months, their franchise will expire and they'll get zip, which is exactly what we have right now, zip," said Olson.
For Qwest's part, the carrier has repeatedly said that it is very pleased with its partnership with
DirecTV Group Inc.
(NYSE: DTV) and Mueller's comments indicate that this will continue to be the company's only means of delivering TV to its subscribers.
But, it has also started down the lengthy and expensive process of obtaining video franchises. According to documents on the city of Portland's Website, the franchise application there sports a $5,000 processing fee.
Qwest's Portland video franchise goes into effect on January 1, 2008. At that point, Qwest will have 18 months to notify the city of when it plans to begin cable service, if at all.
Are CEO Mueller's public statements and Qwest's actions contradictory? When reached for additional comment, Qwest's spokesman would only say: "We're going to continue to focus on improving bandwidth speeds. In regard to our approach to video, we're happy with our relationship with DirecTV."
It's worth noting that Qwest has a legacy video network that passes about 500,000 homes in parts of Denver, Phoenix, and Salt Lake City. But it's recent efforts to deliver IPTV, over a fiber-to-the-node network, may be more impressive that what it has done in the past.
Or, if the CEO's words are taken at face value, the whole exercise in Portland might just be a big tease. City leaders in the places where Qwest has talked up its IPTV capability are prepared for the worst.
"If we got set off by everything carriers did, we'd never come to the office," says Olson.
— Raymond McConville, Reporter,
Light Reading
PARTNER PERSPECTIVES
- content from our sponsors