My Town Wants Google 1-Gig!
12:20 PM -- My town -- Highlands Ranch, Colo. -- wants in on the
Google
(Nasdaq: GOOG) 1-Gig sweepstakes.
I know this because my community association just informed us locals in an email newsletter that we should all band together and explain to the Almighty Google why our little suburb, nestled just south of Denver, should be selected as a test site for the company's supersonic speed tests. (See
Google's Gigabit Fiber Fantasy
,
Google's Pointy Stick
, and
Google Jumps Into Gigabit FTTH
.)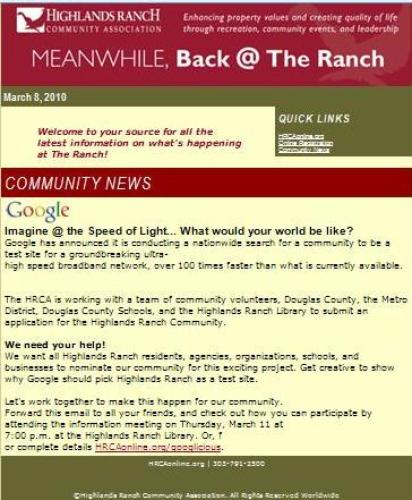 We already have DSL from
Qwest Communications International Inc.
(NYSE: Q) and
Docsis 3.0
service from
Comcast Corp.
(Nasdaq: CMCSA, CMCSK) here, but Highlands Ranch has bought into the Google hype, asking us to "Imagine @ the Speed of Light… What would your world be like?"
Um,
faster
is my first guess. But my fair town is asking for residents to offer up more creative and thoughtful reasons for the Google trial and has set up a dedicated Website --
HRCAonline.org/googlicious
(Yep,
Googlicious!
) -- with more details on the project and how to submit nominations before the March 26 deadline.
And my town is even plying residents with the chance to win part of $1,000 in cash prizes. Apparently we've got some contest going on that's asking Highlands Ranch residents to think up what sort of cool apps 1-Gig speeds can enable. And get this:
Fujitsu Ltd.
(Tokyo: 6702; London: FUJ; OTC: FJTSY)'s sponsoring the whole thing, perhaps in an attempt to get on Google's good side before the test contracts are awarded. Guess I can't blame them for trying.
And to top it all off, our Googlicious Web page embeds a lovely video -- er,
slideshow
-- to help introduce Highlands Ranch to the boys and girls of Mountain View. I'm just now learning, for instance, that we have three
major
shopping centers, and that Highlands Ranch was listed recently as a top ten place to live, according to
Buzzle
, no doubt an authority on such things.
So, with Google 1-Gig, we can have it all… maybe even the ability to produce a
YouTube Inc.
video that actually uses full motion.
Although Highlands Ranch is vying for Google's attention, apparently a temporary name change to Google Ranch isn't in the offing. Guess we just
don't want it quite as bad
as the folks in Topeka, Kan., and Sarasota, Fla.
— Jeff Baumgartner, Site Editor,
Light Reading Cable