1:15 PM -- AT&T was handed a victory of sorts in the matter of its pole-mounted U-verse equipment in Connecticut.

The state's Department of Public Utility Control (DPUC) "said AT&T could continue installing the 1,000-pound boxes if it obtains the consent of abutting property owners and municipalities," according to the Hartford Courant. For those boxes already installed, AT&T simply has to "collect retroactive consent from property owners who initially disputed the installations," the article states.

While AT&T has spun this as the cable lobby's attempt to slow down its network, you can't help but review the state filings and marvel at the company's ability to get in its own way. Sure, local bureaucrats are famously hard to please, but Ma Bell's no saint, either.

Sadly, AT&T has an institutional track record of minimizing bad news and public safety complaints surrounding its U-verse equipment. And the great Connecticut VRAD debate simply nailed the company's huffiness up on a pole for all to see.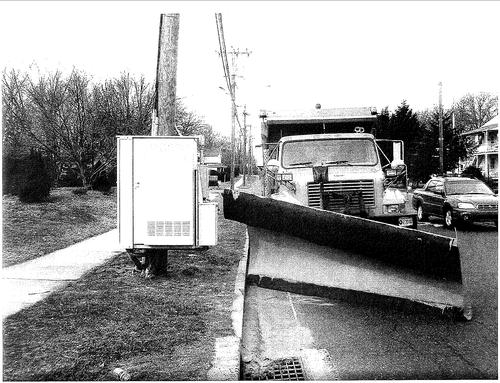 Have a look at some excerpts of this brief, filed last week, by Bill Vallée, Principal Attorney of the State of Connecticut's Office of Consumer Counsel:


What has truly characterized and driven this Docket has been the arrogant attitude and conduct of AT&T Connecticut in its dealings with all players in the public rights of way, including the dozens of municipalities now a part of this Docket, the state Department of Transportation, and the adjoining property owners, some of whom have joined this or formed their own dockets in protest and frustration...

AT&T Connecticut actually attempted to quibble a few times during the hearings by parsing the fine distinction between "fire" and "explosion" when it came to their VRAD boxes, but the facts cut against drawing too fine a line on the issue. In contrast to these weak complaints, the testimony at hearings in this Docket concerning the two electrocutions in West Hartford in the fall of 2000 (unrelated to VRAD boxes) illustrated that even AT&T Connecticut recognizes that the processes of operating in the public rights of way has the potential for deadly accidents to occur…

If the worst happened and a fatal VRAD explosion occurred in Connecticut, all parties will look back and ask what was really more urgent: the rapid installation across the "high margin" customer areas of the state espoused by AT&T Connecticut or the avoidance of injury or even loss of life through equitable compliance with plain-meaning statutes reflecting express public policy goals of safety and cooperation in the public rights of way.


Yeah, OK, the filing is melodramatic. But AT&T's tendency to be stubborn instead of sensible is starting to weigh on consumers, some of whom won't accept AT&T's word that its VRAD equipment is now safe.

That said, I think it's becoming easier to see why AT&T's representatives are so chippy about these issues.

I'm a U-verse customer and I think the service is top notch, and equipment is safe. All the same, I'm glad there's not a VRAD at the foot of my driveway. So I want cake (well, aesthetically pleasing broadband), I'll eat the cake, and I don't want to pay anymore for that cake than the one I was eating yesterday.

If you were AT&T and had to deal with the reality of consumer statements like the ones above, what would you do?

— Phil Harvey, Editor, Light Reading