Lightspeed Unauthorized

Comment (13)
FRISCO, Texas --
AT&T Inc.
(NYSE: T) still hasn't formally announced that it is rolling out
Project Lightspeed
in North Texas, but
Light Reading
has found proof that it's on the way. A field trip, with camera in hand, revealed there's heavy competition brewing as local cable companies and CLECs brace for a big fight with "the new" AT&T.
The Ground Wars
Earlier this year, we reported that AT&T was adding fiber to the premises (FTTP) and fiber to the curb (FTTC) connections in the city of Frisco, Texas. (See
AT&T Readies Lightspeed in North Texas
.) While that work marches on, the competition is showing up, too. In the
Pearson Farms
master-planned community, where homes range in size from 2,595 square feet to 4,500 square feet,
Comcast Corp.
(Nasdaq: CMCSA, CMCSK) has also arrived to install some new infrastructure, pictured below, right next to an AT&T splice box that was spotted near some
new home construction
.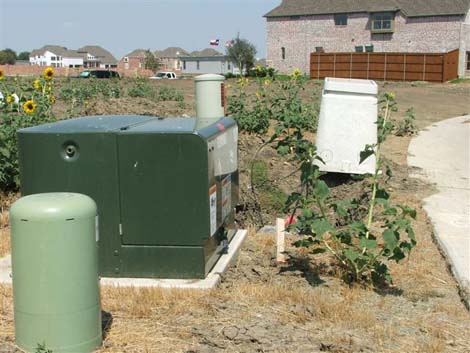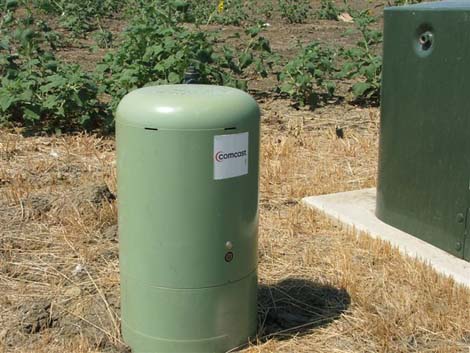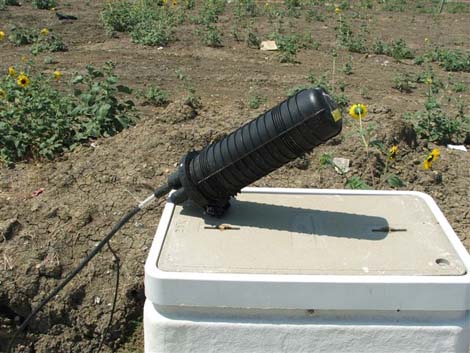 A few miles down the road, AT&T is getting competition from
Grande Communications
, which operates as a CLEC and a cable MSO in Frisco and several other North Texas cities. This competition, though good for consumers, adds to the clutter in the 'hood.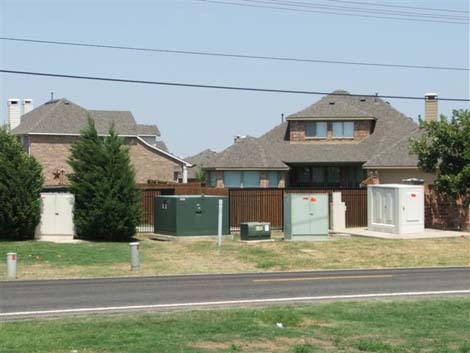 What's noteworthy about the cabinet farm above? A plugged-in source says that the AT&T gear in that particular location hasn't been upgraded for Lightspeed yet. So that means you could soon see a DSLAM cabinet and another power pedestal, on yet another concrete pad. But who ever said telecom equipment was pretty?
A Power Problem?
Of course, not all is wine and roses as these communications giants are looking to leapfrog each other in the race to provide voice, video, and data to consumers. At the foot of Old Orchard Park, in Frisco, right
next door
to an elementary school,
this cabinet farm
houses two potentially troubling power problems -- one for a local cable company and one for AT&T.
First, the cable box. While nothing appears to be wrong in front...
…the back of the box was unlocked and partially open. We took a picture, then latched it back as best as we could: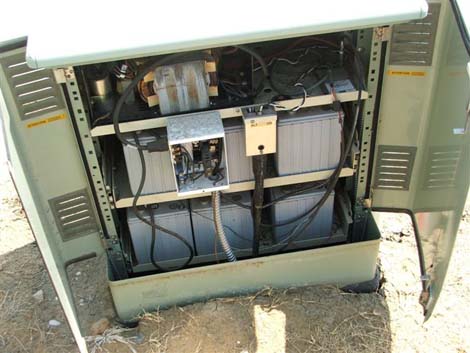 We can't seem to get anyone to fess up to owning this particular box. Comcast, Grande, and
Time Warner Cable Inc.
(NYSE: TWC) all serve different parts of this area. All three have been queried by
Light Reading
and only Grande has responded to say that it sent out a technician and verified that the box doesn't belong to Grande.
At this same appallingly ugly cabinet farm, we saw a Lightspeed-ready IP DSLAM cabinet (on the left) next to a big 'ol crossconnect cabinet: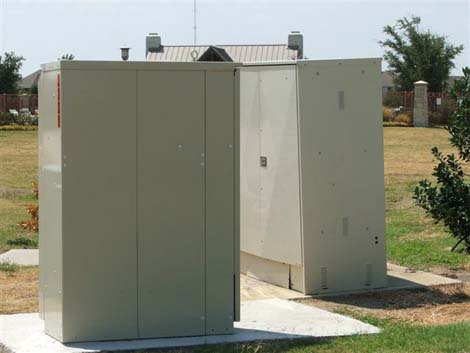 A few feet away, a controlled environmental vault (CEV) houses the digital loop carriers that provide DSL service to the neighborhood and, probably, the elementary school nearby: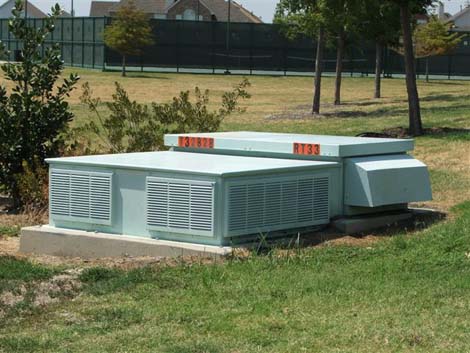 But, alas, AT&T may possibly have a power problem, too. This power pedestal, marked as Southwestern Bell property, which appears to provide electricity to some of the above listed boxes, has a shut-off switch on its outside. Might be easy for, say, a kid to yank.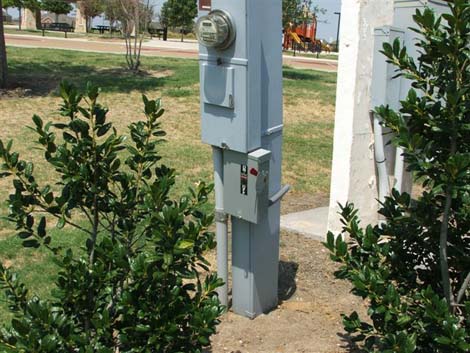 AT&T had no immediate comment on the power pedestal -- they're still checking into it. But it's worth noting that all power pedestals have a shut-off switch somewhere on them, but usually they're locked up. And, of course, we couldn't confirm firsthand that this particular power pedestal was operational. Pulling the switch just didn't seem like the right thing to do.
Fiber to the Model Home
Off Teel Road, in another subdivision under construction, we found a
Sotherby
model home decked out with a fiber-to-the-home (FTTH) connection from AT&T. The connection wasn't live yet, but here we offer a closeup of the
Alcatel
(NYSE: ALA; Paris: CGEP:PA) ONT, the wires coming from inside the home, and the inside of the ONT itself: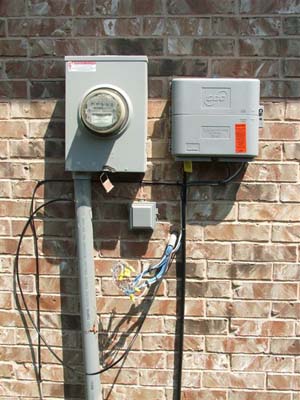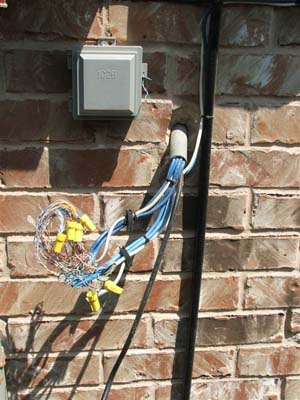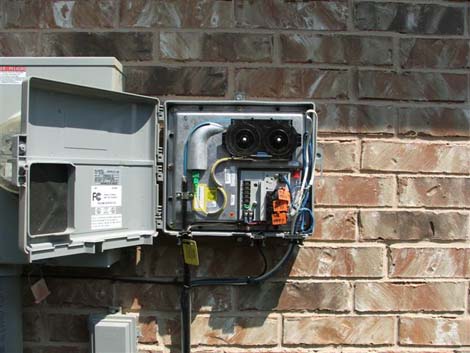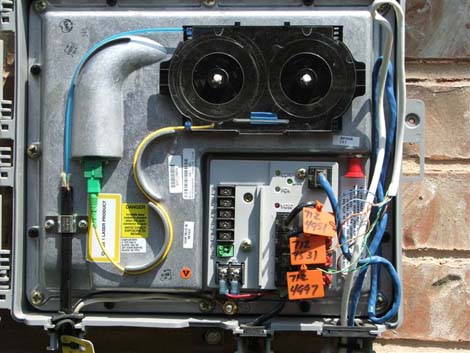 Lightspeed Ready
So is it possible that what we're seeing is just routine work and not the massive upgrade that AT&T promised to make as part of Project Lightspeed? Could be. But, as we peeked inside this crossconnect box on
Deep Canyon Trail
, we found a specific reference to Lightspeed, and more proof that AT&T is close to bringing advanced services to the Dallas area: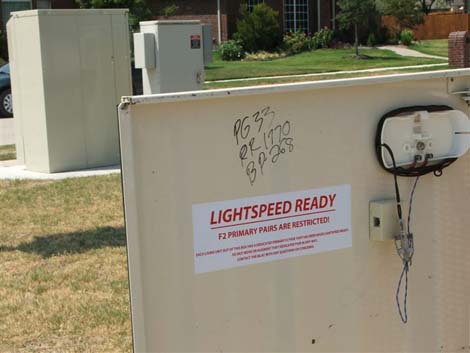 Some background: The "Lightspeed Ready" tag, a trusty source says, is given when a technician says that all the F2 copper wires in a crossconnect box are in good condition. F2 wires go from the crossconnect box to the home, as noted in
this photo's
small print. F1 cables connect the central office to the crossconnect box.
So, phone company reps might say that it's not set in stone that Dallas and its surrounding suburbs will be among those regions lit up this year. The video backbone must be complete, backend and billing systems must be brought online, call centers must be staffed, etc., before
U-verse
can go live around these parts.
But the visible, physical evidence suggests Frisco and the North Dallas suburbs are very close to getting these new services -- otherwise, why would AT&T bother with so much outside plant construction and all the man-hours spent to certify all that copper wire?
Elsewhere in North Dallas, signs of Project Lightspeed are starting to become clear, as new IP DSLAM cabinets are installed next to existing crossconnect boxes and digital loop carrier cabinets. Witness this installation a
Light Reading
source snapped while cruising down the Dallas North Tollway, near Frankford Road, about 15 miles from Frisco.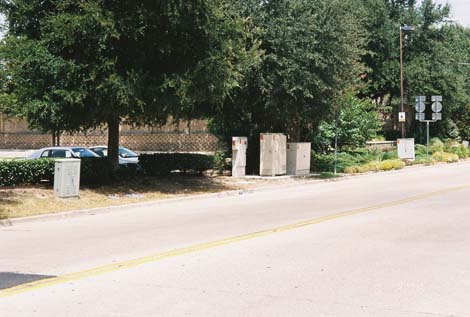 Here's another sign of Lightspeed -- an IP DSLAM cabinet and power pedestal next to a DLC cabinet on the west side of Preston Road, just south of Campbell Road, in Dallas: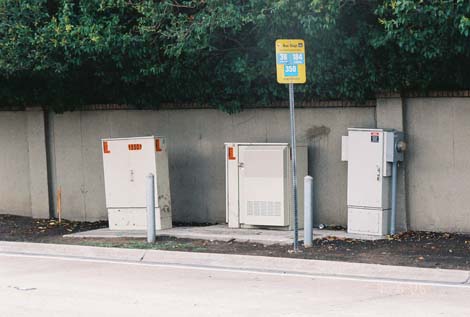 Yet another Lightspeed location, literally on the corner of Campbell Road and Hillcrest Drive in Richardson:
[Editor's note: Leaving Frisco is easy, but getting in is tough. Commuter traffic heading into the bustling city on a Friday afternoon was backed up more than a half a mile from the intersection of Main Street and Lebanon Road. Click
here
for the evidence.]
What does AT&T say about all of our happy snapping? Not much, really. The carrier still won't confirm specific cities targeted for its U-verse service beyond what it has already stated publicly. Spokesman Wes Warnock says the carrier is targeting 15 to 20 markets for the U-verse service by the end of the year. "In addition to San Antonio and Houston, we'll be reaching additional markets across our 13-state territory late in the fourth quarter," he says.
— Phil Harvey, News Editor,
Light Reading