BROOMFIELD, Colo. -- Level 3 Communications Inc. (NYSE: LVLT) appears to investors to be a company in trouble. But the company insists it is on the right track and has no plans to change the acquisition strategy that has failed it thus far.

"Is there something other than Kevin's departure that would indicate that things aren't going as well?" asked Jeff Allen, VP of product management -- when asked about the resignation of COO and co-founder Kevin O'Hara two weeks ago. (See Level 3 COO Steps Down and Power Struggle at Level 3?)

With or without O'Hara, Allen says that things are going as planned and that the integration process that has troubled Level 3 for the past year is on track.

The company has been weighed down by losses following a group of acquisitions including Broadwing and Telcove. (See Level 3 Feels Integration Irritation, Level 3 Integration Aches Continue, and Level 3 Acquisitions Begin to Gel.) Its stock has lost 65 percent of its value in the past year and nearly 30 percent since the start of 2008 alone.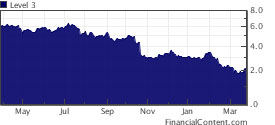 But Level 3 is showing signs of progress. For one thing, management costs have come back to pre-acquisition levels.

"We had a Broadwing organization that answered the phones and a Telcove organization that answered the phones. We had two problems: consolidating those operations and having the insight to solve problems. The mean time to repair problems had gone through the roof," Allen says.

Now, Level 3 can focus on the real integration problem, which is service delivery. "The issue we're dealing with is taking an order from point A to point Z where point A is on one legacy company's system and point Z is on another," Allen says. "That's the root of what has caused most of the problems."

Level 3 has its hopes on a new order processing system called Unity. [Ed. note: Are you sure it's not a religion?] When fully implemented, Unity will be able to automate the entire ordering process including service catalogs, rates, inventories, sales forecasting, and others.

But Level 3's managers admit that, while they've gotten a plan together, they haven't exactly delivered the goods yet. "I think at this point the investor community is waiting for us to prove through our numbers that we've gotten over our integration challenges," says Allen.

It's going to take time. While Level 3 says it is selling well, an order that arrives today could take up until the fourth quarter to show up in its revenues because the company is still in the process of adding buildings to its network.

Level has around 7,000 buildings on-net and more than 100,000 within 500 feet of its metro fiber network. To that, it added about 700 buildings last year and is expecting to add a similar number this year, says Carlos Perez, vice president of metro services.

Still, Level 3 has to spend carefully. "We've got the overriding objective of getting to cash flow positive. So one of the thought processes is, how much capital do you invest? The opportunity is significant, though, in the metro space. Our customers want us to be successful in the metro space," says Perez.

Post-Kevin O'Hara, much of Level 3's recovery will be under the direction of Neil Hobbs, the executive vice president who will take over much of O'Hara's old duties.

"I'd say the benefit there is that Neil came in seven or eight years ago and completely revamped sales," says Allen. "Over the last year he was involved in operations, so it helps keep those two pieces in sync."

Will it all be enough for Level 3 to recover from its financial woes? Perez echoes Allen's sentiment that it is a matter of showing and not telling. "There's a large percentage of our stock that is held by long-term investors. I think those folks believe in our story because in the long run, they believe in bandwidth growth."

— Raymond McConville, Reporter, Light Reading