Latvia Beats US on Broadband Speeds
Welcome to the broadband and cable news roundup, T.G.I.F. edition.
Average global broadband speeds reached 2.6Mbit/s in the first quarter, a 25 percent rise versus the year-ago quarter, and up from 2.3Mbit/s in the fourth quarter of 2011, according to Akamai Technologies Inc. (Nasdaq: AKAM)'s latest State Of The Internet report. South Korea maintained the top spot with an average speed of 15.7Mbit/s. The U.S. lagged at No. 12, but made up significant ground with average speeds of 6.7Mbit/s, up 29 percent from the year-ago quarter and 17 percent from the previous quarter. Hong Kong was tops in average peak connection speeds, with 49.3Mbit/s, up 25 percent year-on-year, while the U.S. hit 28.7Mbit/s, good for eighth place. Here's a snapshot of Akamai's rankings in these two categories: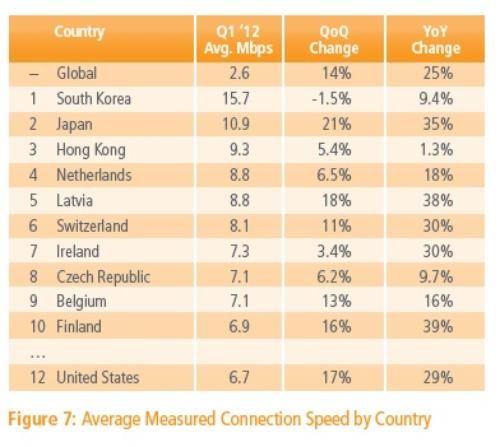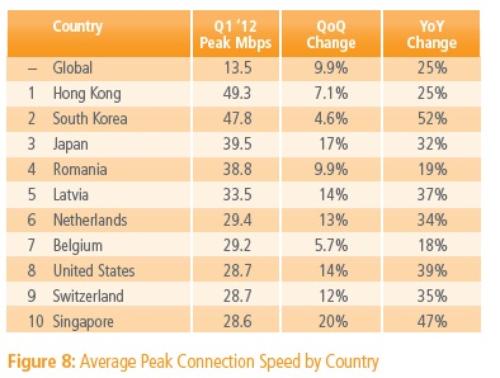 As Google (Nasdaq: GOOG) gets a step closer to launching super-fast broadband and subscription video services in the Kansas Cities, it's of obvious concern for area incumbent providers -- Time Warner Cable Inc. (NYSE: TWC), AT&T Inc. (NYSE: T), SureWest Communications (Nasdaq: SURW) and, to a small degree, Comcast Corp. (Nasdaq: CMCSA, CMCSK). But should others be quaking in their boots, too? "Operators everywhere should be very, very afraid," is the conclusion of SNL Kagan analyst Deborah Yao in this report. Even if Google Fiber doesn't expand beyond the Kansas Cities, the project offers some advantages that could put pressure on how other operators price and package their services. Among them, she points out that Google is keeping things simple by offering just three plans, including that "free" 5Mbit/s tier, uncapped data plans, and eliminating extra charges for set-top boxes. But she also points out some weaknesses, notably content, as Google Fiber (for now) lacks some popular channels like AMC and ESPN. But the report notes that there are some serious doubts that even the mighty Google, which has already spent $500 million on this project, has enough cash to scale this nationally. (See Google Fiber Bundles TV, Shuns Data Caps.)


Comcast Corp. (Nasdaq: CMCSA, CMCSK) is beefing up its customer retention and acquisition efforts with the launch of Movers Edge, a program that helps consumers who are relocating get their video, voice and high-speed Internet services up and running quickly. The program features a "concierge-like" hotline, and a range of self-install kits and a professional installation option that promises a two-hour appointment window.


Cablevision Systems Corp. (NYSE: CVC) has appointed Matt Lake, the former principal of Brooklyn Brothers, to SVP of branding and creative, where he'll initially focus on the MSO's line of Optimum-branded products and services, AdWeek reports. The hire comes after Cablevision President and CEO Jim Dolan noted on the company's second-quarter call that it would soon boot up a rebranding effort as it launches new products and features, including a cloud-based navigation system for set-tops. (See Cablevision Packs More Video Into the Cloud.)


The next generation of the Xbox could be about 18 months away, according to a Microsoft Corp. (Nasdaq: MSFT) job listing that briefly appeared mentioning upcoming plans for the gaming console, reports Computerworld. Microsoft has since taken down the listing, noting it was only in reference to a software update for the company's current gaming console.

— Jeff Baumgartner, Site Editor, Light Reading Cable


PARTNER PERSPECTIVES
- content from our sponsors