NEW YORK -- Insisting that broadband access can help create jobs and world economies, the International Telecommunication Union (ITU) called on global leaders to ensure that half of the world's population has access to high-speed Internet connections by 2015.

But there's some serious ground to be gained if the the ITU's stated goal is to be reached.

There were about 479 million fixed broadband subscriptions worldwide at the beginning of 2010, a penetration rate of 22.6 percent, according to the ITU, which delivered a report on the state of broadband to the United Nations Secretary General at a meeting here Sunday.

While fixed broadband subscriptions have more than doubled since 2006, when there were 216 million such subscribers, governments worldwide must increase their investments in both fixed and wireless broadband technology to ensure "broadband inclusion for all," the ITU urged in its report (PDF).

"Broadband is as vital as roads, bridges, and electricity," UN secretary general Ban Ki-moon said at the meeting held by the Broadband Commission for Digital Development, which was attended by diplomats and industry executives.

Looking to demonstrate why governments should increase investments in building broadband infrastructure, the report said that for every 10 percent increase in broadband penetration, there will be an average increase of 1.3 percent in national gross domestic product.

Although some consumers complain the price of broadband Internet access is already too high, the commission said broadband is even more comparatively expensive in developing nations. It said subscribers in the United States, the United Kingdom, Canada, and Australia pay less than 1 percent of average national monthly income for a high-speed Internet connection, while in many of the world's least developed nations, such as Ethiopia, Malawi, and Niger, a broadband connection costs many times an average monthly salary.

The ITU said it expects mobile broadband subscriptions to exceed more than 900 million globally by of 2010, compared to 667 million at the beginning of 2010 and 73 million at the beginning of 2006.

While broadband subscriptions are growing steadily in developing countries, accounting for 42 percent of fixed broadband subscriptions worldwide at the beginning of 2010 and 26 percent of mobile broadband subscriptions, penetration levels in developing countries remain low. It said the penetration rate for fixed broadband in developing countries is 3.6 percent, and the penetration rate for mobile broadband subscriptions is 3.1 percent.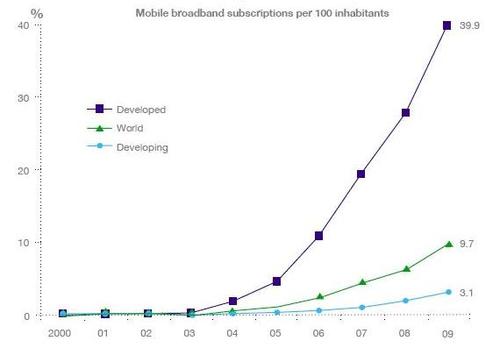 A call for universal broadband
Noting that at least 30 countries have broadband included in universal access and service programs, the ITU called on world leaders to expand universal service to every citizen.

At a roundtable discussion Sunday afternoon, Suvi Linden, Finland's minister of communications, said that she would introduce legislation that could slash the prices on broadband access in her country. Ensuring broadband access for all citizens remains a challenge in developed nations in addition to underdeveloped countries, Linden added.

Reducing the costs for smartphones could also drive broadband penetration, Leong Keng Thai, deputy chief executive and director general of the Infocomm Development Authority of Singapore (IDA) , said during the roundtable discussion. Reducing the cost for a smartphone to below $100 can drive a mass market for the devices, she said.

Expanding the fiber infrastructure in countries worldwide is also a key to driving increases in broadband penetration, Peter Stephens, a partner at Virgin for Telecom & Media Investments, told attendees.

British prime minister Gordon Brown wrapped up the roundtable discussion by calling on both governments and the private sector to work together to bring broadband access to the global population. He also recalled a recent visit to Uganda, where he saw classrooms in which dozens of children shared a single computer.

"It's a huge opportunity that we must not fail to build upon. We have to go out and build the future," Brown said.

It's worth noting that the commission didn't detail a minimum speed for its definition of broadband. The commission said broadband is defined by a service that can deliver combined voice, data, and video services. It also said broadband refers to "always-on" Internet connections, and that broadband connections should have low latency and high capacity. In the United States, the Federal Communications Commission (FCC) increased its definition for broadband to 4 Mbit/s in July. (See FCC: Broadband Starts at 4 Mbit/s .)

— Steve Donohue, Special to Light Reading Cable