Based on the number of lab trials already lined up by Harmonic Inc. (Nasdaq: HLIT), cable operators are apparently eager to try out a new generation of ultra-dense Converged Cable Access Platform (CCAP) products that will help them save on power and headend space while also paving the way to an all-IP future.

Harmonic's CCAP product, the NSG Pro, is already in one lab trial, with commitments for seven more by the end of the year, says company VP of Cable Solutions Gil Katz. All of those anticipated tests involve U.S. cable operators, but trials with international MSOs are expected to follow next year. Katz says the NSG Pro should be ready for commercial deployments by the first quarter of 2013. (See Harmonic Rolls Out Its CCAP.)

Harmonic will debut the NSG Pro at next week's Society of Cable Telecommunications Engineers (SCTE) Cable-Tec Expo in Orlando. The entry will lock horns with a handful of CCAP competitors, including Arris Group Inc. (Nasdaq: ARRS), Casa Systems Inc. , Cisco Systems Inc. (Nasdaq: CSCO), CommScope Inc. and Motorola Mobility.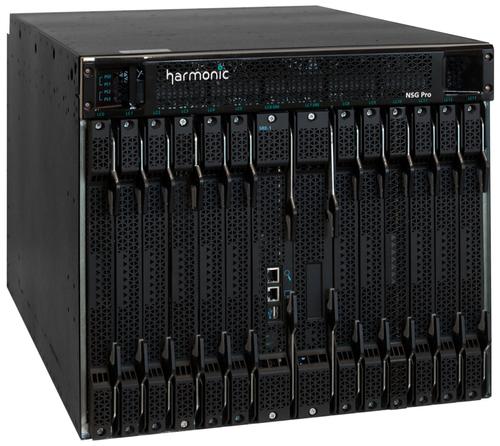 Harmonic, a company known for video processors and edge QAMs, has been developing a full CCAP in relative secrecy, as it only recently confirmed that such a product even existed on its roadmap. Harmonic isn't saying how many people are linked to the CCAP project, but Katz acknowledges that it includes Harmonic veterans as well as several recent hires from Cisco, BigBand Networks Inc. (now part of Arris) and Terayon Communication Systems, a Docsis pioneer that was acquired by Motorola in 2007. (See Motorola Seals Up Terayon and Harmonic Goes All-Out for CCAP .)

The initial release of the "CCAP-compliant" NSG Pro will include the downstream edge QAM capability, and it will be followed by the upstream line card at a later date. However, Harmonic plans to demonstrate a full CCAP -- the upstream pieces and all -- at next week's show.

Harmonic's aim is to develop a CCAP that can fit a wide range of system sizes and cable architectures -- anything from highly distributed architectures with small hubs that serve 20,000 to 40,000 homes, up to big centralized systems that handle 500,000 or more homes via a super headend.

Why this matters
Harmonic's CCAP entry should apply some serious pressure on a product category that is initially expected to favor incumbent CMTS suppliers. And Harmonic's purported lab trial activity indicates that not just the early champions of CCAP (i.e. Comcast Corp. (Nasdaq: CMCSA, CMCSK), Time Warner Cable Inc. (NYSE: TWC) and Cox Communications Inc. ) are preparing for lab tests ahead of expected field trials and some initial deployments in 2013.

While cable's migration to an all-IP video platform is considered a key CCAP deployment driver, Katz says some operators are looking for the densities promised by CCAP in the nearer term to help them free up headend rack space and cut down power consumption as they build up capacity for other narrowcast services, including high-speed data and video-on-demand.

For more


— Jeff Baumgartner, Site Editor, Light Reading Cable