Costs Could Keep RFoG a Niche Player
When given the choice of deploying fiber-rich architectures in greenfield locations and situations that call for network upgrades, MSOs usually get a far better cost advantage with a "Fiber Deep" approach than they do with RF over Glass (RFoG), a recent analysis by
Aurora Networks Inc.
suggests.
Aurora, a Santa Clara, Calif.-based company that makes gear for both architectures, says the cost-per-mile of Fiber Deep comes out on top, except in low, rural density (25 to 30 homes per mile) environments.
If that's true, RFoG may be no more than a niche cable play for years to come.
Quick recap: RFoG is an emerging
Society of Cable Telecommunications Engineers (SCTE)
interoperability standard that lets MSOs run fiber all the way to the home without having to change their headends, provisioning systems, and traditional consumer premises equipment (CPE), including Docsis modems, embedded multimedia terminal adapters (eMTAs), and set-top boxes. Although RFoG doesn't offer much in the way of a capacity bump on its own (unless it's paired with a PON), it does give MSOs place at the table when new-home developers require a fiber-to-the-home option from their TV and broadband service partners. (See
Who Makes What:

RFoG Systems
,
Arris Enters RFoG Fray
, and
RFoG Gets the Squeeze
.)
In comparison, the Fiber Deep architecture eliminates the amplifiers between the node and the home, and reduces node sizes to about 125 homes per node. That compares to about four amps per node and 500 to 1,000 homes per node used in more traditional hybrid fiber/coax (HFC) networks today. Although coax still factors in, this approach pulls fiber closer to the homes and is considered "green" because it erases the need for powered amplifiers. (See
Aurora Networks Plays the 'Green' Card
.)
According to Aurora, Fiber Deep is almost always the cheaper way to go. Company vice president of marketing John Dahlquist also claims Fiber Deep falls within about 3 percent of the cost of deploying a more traditional HFC network.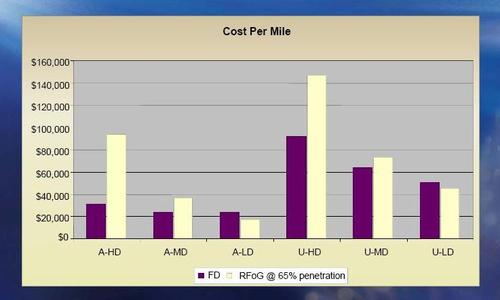 Dahlquist says RFoG costs tend to be higher in mid- and high-density scenarios due to the increased demand for transmitters and the added capital required for RFoG micronodes, the CPEs that handle the optical-to-electrical signal conversion at the premises. However, efforts are underway to lower costs by allowing transmitter sharing over large areas, Dahlquist says.
Still, the analysis suggests RFoG will remain a super-niche play for most cable operators for the foreseeable future.
That's already being reflected in the revenues generated by Aurora, a privately held company whose annual take is believed to be in the neighborhood of $150 million. Dahlquist says about 95 percent of those revenues come from Fiber Deep deployments, with only about 5 percent coming from RFoG sales.
Dahlquist says Fiber Deep has particularly taken hold with Tier 2 US MSOs, including
Bresnan Communications LLC
and
Suddenlink Communications
. Some publicly traded majors such as
Comcast Corp.
(Nasdaq: CMCSA, CMCSK) and
Time Warner Cable Inc.
(NYSE: TWC) have installed it on a more limited basis but may hesitate to deploy it more broadly based on the possibility that Wall Street might perceive the use of Fiber Deep as a capital-intensive upgrade.
Outside the US,
Videotron Ltd.
of Canada and
Jupiter Telecommunications Co. Ltd. (J:COM)
of Japan are using Fiber Deep heavily.
Rogers Communications Inc.
(Toronto: RCI), Canada's largest MSO, is using Fiber Deep when it expands on the fringes of its existing HFC networks. (See
Videotron Plants 'Fiber Deep'
.)
— Jeff Baumgartner, Site Editor,
Light Reading Cable
PARTNER PERSPECTIVES
- content from our sponsors