NEW YORK -- The Future of Cable Business Services -- Although it's clear that business services represent a key growth engine for the cable industry, a debate remains over how MSOs should pipe those services in: though the hybrid fiber/coax (HFC) plant already in use, or via fresh fiber.

MSO panelists here at the latest Light Reading Live event weighed that topic on Tuesday, and most agreed that both will play roles in cable deployment strategies. The choice hinges largely on the size of the prospective business customer and the type of services the MSO plans to package into its commercial bundle.

But one thing is clear: If the installed plant can take care of the job at hand, there's no sense wasting it.

"It's here. It's in the ground. It's something that we can use," said Darren Wolner, director of product management for the Time Warner Cable Inc. (NYSE: TWC) business services division.

HFC "does a good job " for small and mid-sized businesses (SMBs), added Terry Canning, senior vice president of the business solutions unit of Canada's Rogers Communications Inc. (NYSE: RG; Toronto: RCI). But for high-occupancy office buildings, "you can't beat fiber," he said, noting that many HFC plants have fiber planted fairly deeply in the network already.

Fiber is also the obvious choice for new build-outs. "It's just as easy to lift fiber into the place, if you've got to build," Canning said. "My preference, if I don't have the access, will be fiber."

Although it wasn't represented on this particular panel, Optimum Lightpath , the commercial services unit of Cablevision Systems Corp. (NYSE: CVC), has gone with an all-fiber strategy that targets large businesses. Cablevision's Optimum Business unit uses the MSO's HFC plant to serve SMBs.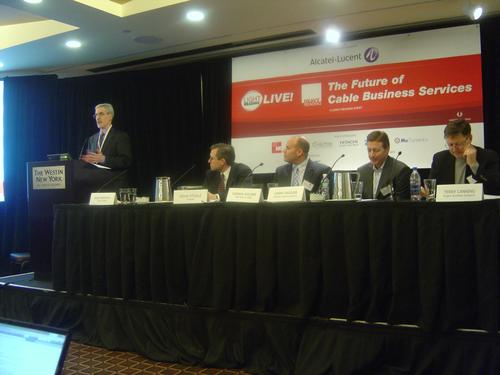 Wielding Docsis 3.0
Comcast Corp. (Nasdaq: CMCSA, CMCSK), which is revving up a plan of its own targeted at SMBs, plans to mine everything it can out of its HFC assets, which offer more than 800 MHz of shielded bandwidth in many markets.

"Docsis 3.0 can extract more bandwidth out of that asset. Going all-digital extracts more bandwidth out of that asset," said Kevin O'Toole, Comcast's vice president of business products and strategy.

Comcast is offering a business-class Internet tier in all markets where it introduces Docsis 3.0-based services. (See Comcast Takes 'Wideband' Wider .) Its "Deluxe 50" tier for business customers (50 Mbit/s downstream by 10 Mbit/s upstream) runs $189.95 per month, and ties in static IP addresses and communications services from Microsoft Corp. (Nasdaq: MSFT). (See Comcast, Microsoft Get Down to (Small) Business .)

Although it may make sense to pull fiber in some greenfield scenarios, "I think [HFC] has a lot of life left in it," O'Toole said. He declined to say how many business customers have signed up for Comcast's Docsis 3.0 product but said he was "pleased with the early performance."

"Docsis 3.0 will enable us to do things we haven't done before," added Time Warner Cable's Wolner. Although it's been less aggressive than Comcast with Docsis 3.0 deployments, TWC has said it intends to introduce wideband services in New York City, introducing them on a "surgical" basis where competition is greatest -- most likely in markets where where Verizon Communications Inc. (NYSE: VZ)'s FiOS looms. (See Britt: Docsis 3.0 Coming to NYC and 'Surgical' Strikes .)

Wolner agreed that HFC "has some legs… but if you have to build and put the shovel in the ground, you'll probably go down the fiber path." Time Warner Cable, he stressed, will look to Docsis 3.0 "to fill that fiber gap for some [business] customers."

Moreover, Ethernet-over-Docsis implementations will "truly transform the market" for cable-fed business services, he predicted. (See TWC Offers Ethernet.)

Bresnan Communications LLC , meanwhile, could be ready to deploy Docsis 3.0 in three or four of its larger markets in 2009. "We're still not sure if it's worth the capital investment. We're still weighing the business case," said Lenny Higgins, the senior VP of advanced services.

Higgins said Bresnan would evaluate fiber-only options if prospective customers need a symmetrical service with lofty speeds. These days, Bresnan offers businesses a 3 Mbit/s symmetrical service, and an asymmetrical, Docsis-based service that tops out at 10 Mbit/s downstream and 3 Mbit/s upstream.

RFoG still foggy
Panelists weren't as hot about RF over Glass (RFoG), an emerging Society of Cable Telecommunications Engineers (SCTE) standard that uses fiber with today's headend equipment and continues the use of digital set-top boxes, Docsis cable modems, and embedded multimedia terminal adapters (E-MTAs). (See Hitachi Rolls Out RFoG Gear , RFOG Comes Rolling In , CommScope Sees BrightPath for Cable FTTP, Moto Expands 'CablePON' Strategy, SA Pitches Cable PON, Fog Lifting on RFOG, and Calix Uses RFOG.)

"I can't say [RFoG] is going to show up as a must-do," for business services, Higgins said. Still, Bresnan has started to use RFoG for some residential greenfield build-outs in Durango, Colo. "We're just starting to view it as a business opportunity."

O'Toole said RFOG "might be an interesting bridge to get glass into the ground," but added that RFoG is not on his list of top five to-dos.

— Jeff Baumgartner, Site Editor, Cable Digital News