2:15 PM -- In the race to deliver promised broadband speeds, Verizon Communications Inc. (NYSE: VZ)'s FiOS service is winning, but three of the largest cable companies -- Comcast Corp. (Nasdaq: CMCSA, CMCSK), Cox Communications Inc. and Charter Communications Inc. -- are close behind, according to a report issued by the Federal Communications Commission (FCC) Tuesday. Cablevision Systems Corp. (NYSE: CVC) and AT&T Inc. (NYSE: T) trail the pack, delivering on promised speeds only 80-plus percent of the time, the report said.

You can read the report for yourself, right here, but one of the things that struck me about it is that the distinctions among the different services weren't all that great, even though fiber outperformed the rest.

The good news for everyone is that the entire industry is much closer to providing consumers with the broadband speeds for which they are paying. It was only two years ago, the FCC says, that only 50 percent of broadband ISPs were delivering the advertised speeds.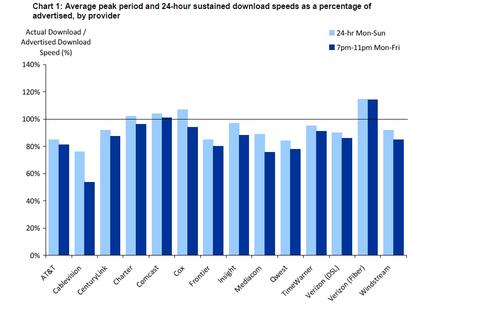 Taken in conjunction with other findings, however, the differences among the service providers may be less important than the prices they charge.

For example, the report finds that streaming video worked fine at 1 Mbit/s for standard video and at 2 Mbit/s or more for higher-quality video, and VoIP also worked well at all level of services tested. VoIP did suffer when multiple users within the household were sharing bandwidth.

Basic Web browsing was even less affected by higher-speed services -- in fact, beyond 10 Mbit/s, there was little additional improvement in Web browsing, the report found. Those ballyhooed burst speeds, marketed as "power boosts," only helped improve short-term quality and therefore only help Web page transfers or online game action. They weren't useful for large file transfers or video streaming.

Peak traffic affected cable modem speeds the most, which makes sense because of the shared bandwidth. But the difference between the peak speed decreases for cable (7.3 percent) and DSL (5.5 percent) weren't all that great. FTTH suffered from almost no peak degradation (0.4 percent).

Upload speeds were actually closer to the advertised rates than download speeds. DSL uploads were 85 percent of advertised rates, cable-based services were 108 percent and FTTH was 112 percent.

— Carol Wilson, Chief Editor, Events, Light Reading