AT&T Inc. (NYSE: T) says it isn't finished investigating what caused one of its broadband equipment cabinets to explode in suburban Houston last year. The explosion, first reported by Light Reading, occurred in the 8200 block of Clover Gardens Drive, outside the home of an elderly couple in late October. (See AT&T Investigates DSLAM Explosion and AT&T Still Digging on DBLAM!)

Last year, the carrier left open a wide range of possibilities -- everything from a gas leak to an electrical issue to an act of vandalism -- as the cause of the incident. Now, though the investigation is ongoing, AT&T may be closer to uncovering the true cause.

"Our investigation is focused on the batteries, which were previously supplied by Avestor, a company that went out of business," an AT&T spokesman writes in an email sent to Light Reading last week. "As a result of Avestor's closing, we turned to three other battery manufacturers with whom we already had a relationship."

Avestor filed for bankruptcy in October 2006 and the company closed shortly thereafter. That was the same month AT&T's equipment cabinet in Houston was ripped to shreds by an explosion that industry sources say could have very likely been caused by Avestor's lithium-metal polymer (LMP) battery becoming unstable.

What's the big deal? Light Reading has confirmed that there are now 17,000 Avestor batteries deployed in equipment cabinets across AT&T's network. "This includes U-verse and non-U-verse installations," an AT&T spokesman writes. If the battery was at fault in Houston, any injury risk or expense incurred is suddenly multiplied by tens of thousands -- and spread across a huge geography.

But don't push the panic button yet. AT&T's spokesman says that "at this point, we have not concluded that the Avestor batteries pose any threat to the public or our employees."

The carrier says it's working with an independent forensics organization to thoroughly investigate every possible scenario that could have led to the Houston explosion. The fact that Avestor has shut down is only making it harder for AT&T to get the information it needs in its investigation, the company says.

"AT&T puts the safety of its customers and employees first –- our track record reflects that," the spokesman says.

Separately, today Light Reading is publishing exclusive photos from the October 2006 telco equipment mishap in Houston. These photos, obtained by a source close to AT&T, show the extent of the damage done to the equipment and surrounding property. (See Exclusive Photos: Fire to the Node.) Understanding Avestor
A January 2006 Avestor LMP battery installation manual, obtained by Light Reading from industry sources, states that Avestor's telco batteries were similar to other lithium-based batteries in makeup.

Avestor's materials say the batteries are solid state, meaning they have no liquids or acids that can leak or spill. They're guaranteed for a 10-year lifespan and are much smaller and more costly than valve-regulated lead-acid (VRLA) batteries.

But, the manual warns, extreme heat makes them catch on fire, and any physical damage during shipping can make the products unstable. The manual also states the products should be shipped to Avestor when replaced (which is now impossible) and that staff transporting them should be trained in handling hazardous materials.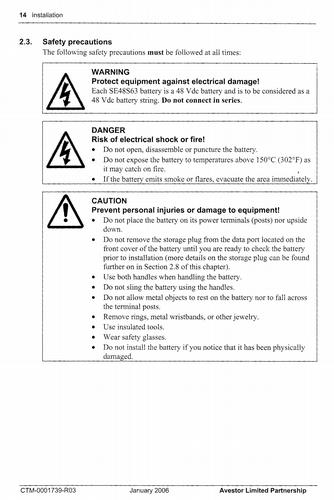 Avestor, which was formed in 2000, was a partnership of two major energy concerns, Hydro-Quebec and Kerr-McGee (now part of Anadarko Petroleum). The two firms spent more than CDN$200 million bringing Avestor's batteries to market. Avestor's assets were sold to Bolloré, a French investment and industrial holding company, earlier this year. That firm was said to be using Avestor's technology for hybrid car batteries, and not focusing on stationary telecom batteries.

Last week, AT&T announced that it will be using nickel cadmium batteries from Saft "to provide battery back-up service for parts of its wire-line network." Saft is a former unit of Alcatel, AT&T's lead equipment integrator for its fiber-to-the-node (FTTN) network and IPTV services. Saft's batteries, the company says, are "optimized for long life under extreme temperature conditions and will survive without maintenance for up to 10 years." (See AT&T Picks SAFT.)

Former Avestor executives couldn't be reached for comment.

Again, AT&T's Avestor exposure is not limited to its U-verse installations, and the carrier hasn't definitively determined the culprit in the Houston incident. But any battery replacement effort could be seen as a knock against AT&T's march to pass 18 million homes with its FTTN network by the end of 2008.

The FTTN network, which carries AT&T's U-verse services, is now projected to cost $6 billion to $6.5 billion to build, up from $5.1 billion as stated in 2006.

— Phil Harvey, Managing Editor, Light Reading