5:05 PM -- DENVER -- Jones/NCTI Inc. , the tech training firm owned by cable and distance-ed. pioneer Glenn R. Jones, and a group of partners have launched a new program that aims to give bright high school students who aren't yet ready to go to college full-time the skills necessary to become install techs.

And they'll still come away with some college credit for the effort.

Jones/NCTI, The Urban League of Metropolitan Denver, Hope Online Learning Academy Co-Op, and TUFF SHED Inc. (yes, there's a very good reason why they're involved) kicked off the program, dubbed BOLD (Broadband Opportunity Learning Development), this morning here at Montbello High School in Northeast Denver.

The program, which centers on underserved and displaced workers, as well as at-risk inner city students, will provide scholarships for three online courses that make up Jones/NCTI's "IQ" program: Quick Start Installer, High-Speed Data Installation, and IP Voice.

Upon completion of each course, students will then undergo an assessment program using the BOLD program's "Hands on Training" (HOT) House, which is situated on the Montbello High School grounds and replicates the home environment. TUFF Shed and Jones/NCTI pitched in for the facility. Arris Group Inc. (Nasdaq: ARRS), a maker of cable modems and embedded multimedia terminal adapters, has offered up a training "tool kit" at a reduced rate.

After completing the online and hands-on phases of the program, those students will then be considered Jones/NCTI-certified "triple-play" cable techs. Jones/NCTI plans to help those grads find jobs with MSOs or with their contractors, according to Jones/NCTI president Robyn McVicker

Those students will also come through the process with some college credit. Arapahoe Community College already offers three credits for the installer course and is currently reviewing the other two for accreditation, McVicker notes.

Seventeen students have been selected for the pilot run, with all partners chipping in to pay for the scholarships. Another 25 students are already on the waiting list, McVicker says.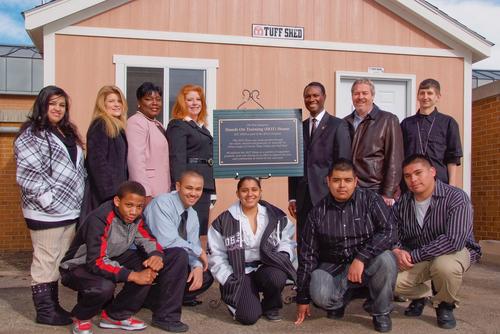 Jones/NCTI hopes to extend the program to other markets with the help of MSOs. The National Urban League's expected to drive that phase of the project.

No specific MSO partners have been announced, but Comcast Corp. (Nasdaq: CMCSA, CMCSK) could be on the short list of possibilities. (Comcast EVP David Cohen serves on the national board of The National Urban League, according to his bio.)

In the meantime, "we're excited that we can do this [pilot program] in our backyard," McVicker says (Jones/NCTI is headquartered just south of Denver).

— Jeff Baumgartner, Site Editor, Cable Digital News