Biden recommits to 'Buy America' rules for broadband grants
In Tuesday night's State of the Union address, President Joe Biden doubled down on "Buy America" rules for all federal infrastructure projects. But those are rules that many in the broadband industry have been fighting against.
During a section of his speech devoted to the Infrastructure Investment and Jobs Act (IIJA), Biden said, "We're making sure that every community has access to affordable, high-speed internet ... And when we do these projects – and again I get criticized for this but I make no excuses for it – we're gonna Buy American."
Biden added: "Buy American has been the law since 1933, but for too long past administrations, Democrat and Republican, have fought to get around it. Not anymore. Tonight, I'm announcing new standards to require all construction materials used in federal infrastructure projects to be made in America. Lumber, glass, drywall, fiber optic cable."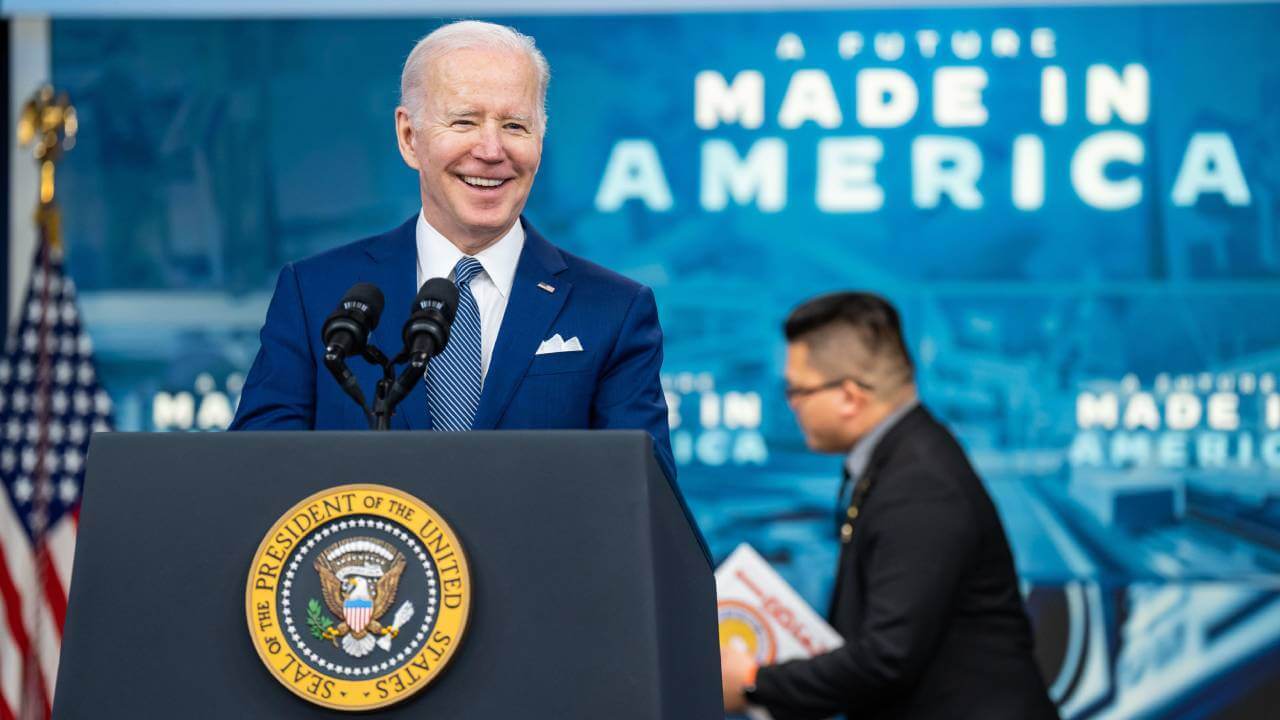 Following his speech, the Office of Management and Budget (OMB) released a proposal to revise the Buy America rules "limited in scope to support implementation of the Build America, Buy America Act provisions of the Infrastructure Investment and Jobs Act; and to clarify existing requirements," according to the document. "These proposed revisions provide further guidance on implementing these statutory requirements, and improve Federal financial assistance management and transparency."
The OMB's proposal, which will go live on the federal register on February 9, will be open for comments for 30 days. Among other industry-specific questions, it requests feedback on "guidance for determining the cost of manufactured products" and "proposed standards for 'all manufacturing processes'."
Specific to fiber infrastructure, it asks:
"The definition of 'construction materials' ... includes 'polymers used in fiber optic cables' as an example of 'plastic and polymer-based products.' ... Is there any reason the standards in ... this proposed guidance should be applied differently for optical fibers that include both plastic and polymer-based components and glass components? Is further guidance needed on the meaning of the terms 'fiber optic cable' and 'optical fibers'?"
Recommitment to mandate
While the IIJA already mandates that infrastructure projects use American-made materials, President Biden's recommitment to the rule comes amid efforts from the broadband industry to water down the Buy America provision.
Following pressure from some vendors and service provider industry lobbyists, and after an industry inventory review, the NTIA in September proposed a "limited applicability nonavailability waiver" on Buy America for Middle Mile grant recipients.
Since then, NTIA and federal regulators have faced pressure to go further, leaving it an open question whether NTIA will issue a similar waiver on the $42.5 billion Broadband, Equity, Access and Deployment (BEAD) program.
In a letter last week to the 118th Congress about broadband priorities, Shirley Bloomfield, CEO of NTCA–The Rural Broadband Association, called out the Buy America rules among "potential program requirements that should be examined more closely for relief or relaxation."
NTCA is one of several industry groups, including the Fiber Broadband Association, Competitive Carriers Association (CCA), Cellular Telecommunications Industry Association (CTIA), NCTA – The Internet & Television Association, USTelecom and others, that have pushed back against the mandate, saying it will delay broadband implementation in some cases to those hardest to reach.
However, in response to President Biden's directive, the NTIA on Thursday released a blog saying it intends to "strictly enforce" Buy America rules going forward.
"NTIA has done considerable research and does not currently see any need for waivers for fiber optic glass or cable. Our expectation is that industry will be able to produce enough quantity to satisfy the demand from the Broadband Equity, Access, and Deployment (BEAD) Program over the coming years," according to the blog.
The agency also indicated it will continue with its limited waiver on Middle Mile grants, saying: "We provided waivers for our first programs that were tailored to align with their specific scopes and timelines. The BEAD Program has different requirements, and manufacturers have time to re-shore or expand their operations.
"Moving forward, NTIA will work with these businesses to ensure that they can produce the relevant products for the BEAD program domestically. We are carefully monitoring administration-wide initiatives like the new proposed Made in America policies from the Office of Management and Budget (OMB) to ensure that we meet our obligations," said NTIA.
Related posts:
— Nicole Ferraro, editor, Light Reading, and host of "​​The Divide" podcast.
[Ed. note: This story was updated on Thursday, February 9, to include comments from the NTIA.]
EDUCATIONAL RESOURCES


PARTNER PERSPECTIVES
- content from our sponsors