For the wireline side of AT&T Inc. (NYSE: T), the fourth-quarter and year-end earnings call was a time to celebrate small declines and increased reach with IP services. (See AT&T Posts Q4.)

The company's revenues for the quarter ended Dec. 31 were $30.9 billion, a small decline compared with the $31.1 billion reported in the year-ago quarter.

The carrier's total wireline revenues were $16.2 billion, down 5.3 percent versus the year-earlier quarter. That's "the company's smallest declines in four quarters," according to the press release.

Why bring this up? Because AT&T's total business continues its shift to "wireless, data, and managed services," according to CFO Rick Linder. "This shift in mix reflects broader industry changes."

Relatively speaking, small declines in businesses that are going away -- wireline voice, long-distance voice, circuit-switched data -- is not a bad thing at all. The traditional wireline replacement businesses are still small, but growing, and AT&T has managed to control costs well enough to make the dropoff less startling.

U-verse & broadband gains
The company reported a 248,000 net gain in AT&T U-verse TV subscribers. The service now has 2.1 million customers, up more than 1 million in 2009.


AT&T says more than 75 percent of its U-verse TV subscribers have a triple- or quad-play option from AT&T, meaning they buy at least three, sometimes four, services from the carrier. The company's fiber-fed U-verse network now reaches approximately 23 million living units, which may include dog houses and bird feeders -- it's hard to say for sure. (See AT&T Ratchets Up U-Verse Speeds.)

The carrier's total video subscribers, including its satellite TV customers, reached 4.2 million at the end of the year, representing 16 percent of the total households AT&T serves.

The company's U-verse broadband product saw a net gain of 267,000 customers during the fourth quarter. When added to AT&T's traditional DSL adds and defections, the carrier reported a net gain of 167,000 in consumer wireline broadband connections.

AT&T's total broadband connections -- including business and consumer wireline subscribers and wireless customers with 3G LaptopConnect cards -- increased by 171,000 in the quarter to reach 17.3 million.

Enterprise highlights
In the wireline business space, AT&T is showing resolve as it moves its frame relay and circuit-switched enterprise customers to more IP-based services. The carrier's total business revenues declined 5.5 percent versus the year-earlier quarter -- again, another small decline.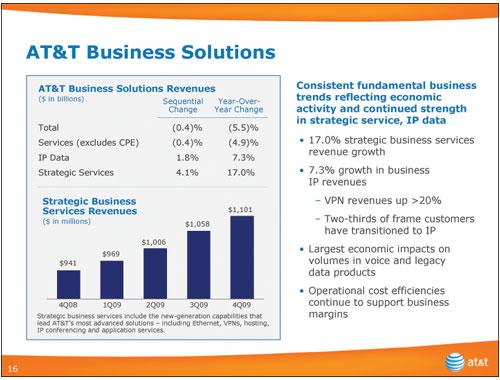 But the company says its business IP data revenues grew 7.3 percent versus the year-earlier quarter, and it had VPN revenue growth of more than 20 percent in the quarter.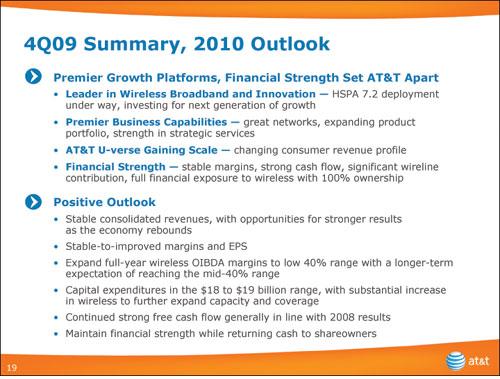 AT&T also adds that two out of every three of its frame customers have made the transition to IP-based solutions. That's a big deal because, with that switch to IP, it makes it easier and more profitable for AT&T to add services -- VPNs, managed security, etc. -- to those connections.

— Phil Harvey, Editor-in-Chief, Light Reading