AT&T resets fiber plan, sheds light on BlackRock JV
AT&T used today's earnings call to fine-tune and reset a fiber network buildout strategy that will be comprised of three key elements: organic expansion, expansions through joint ventures and partnerships, and buildout opportunities coming by way of government subsidy programs.
Speaking on AT&T's fourth quarter 2023 earnings call, AT&T CEO John Stankey reiterated that the company is on track to build fiber in its existing footprint to 30 million-plus residential and business locations by the end of 2025. He said that suggests a buildout cadence of about 2 million to 2.5 million fiber locations annually moving forward, but warned that quarter-by-quarter buildout pace could be lumpy.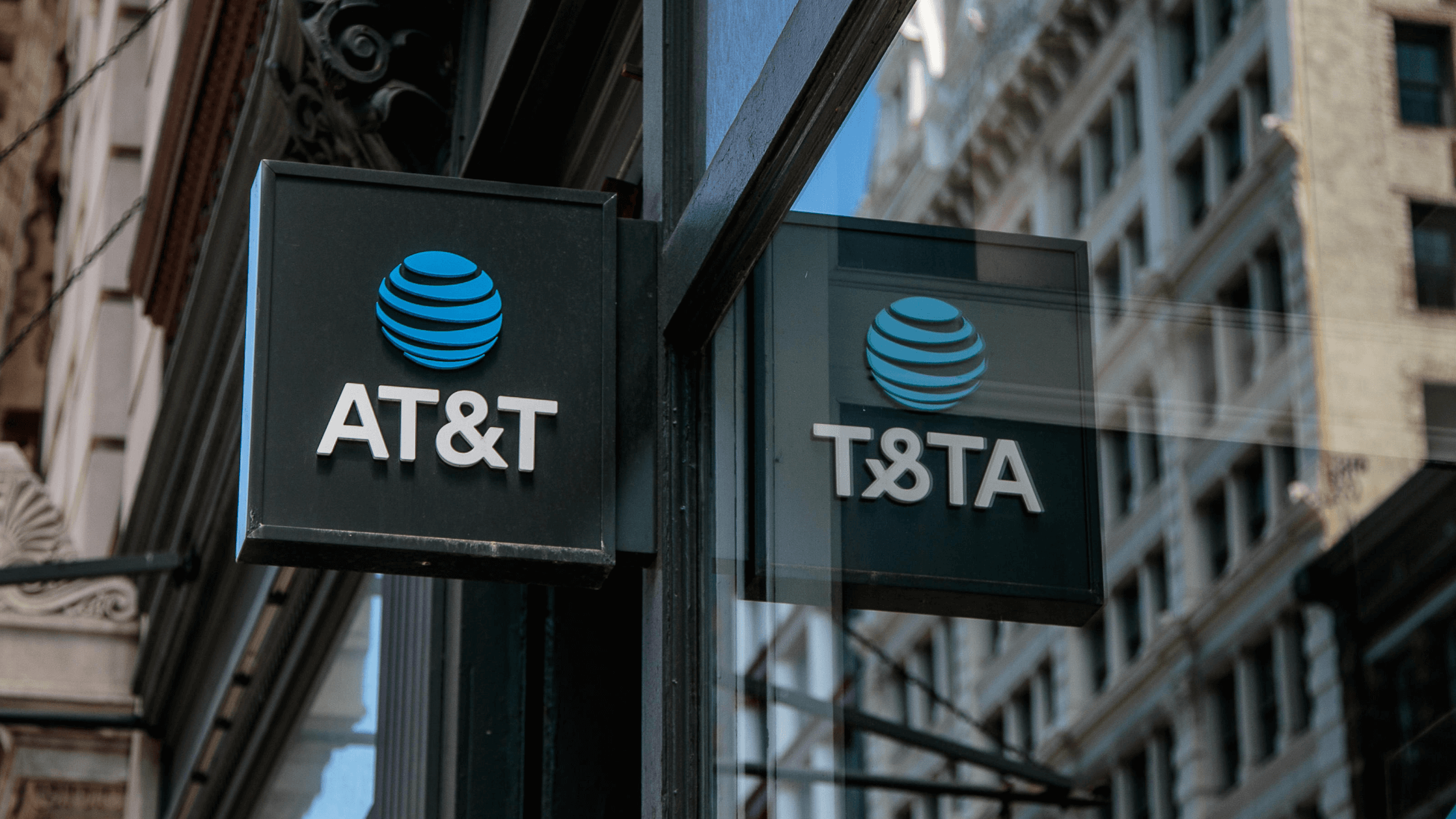 While that part of AT&T's fiber build strategy is relatively well-defined, Stankey spent more time expanding on the two other "buckets" of the strategy: the new joint venture with BlackRock Alternatives and opportunities emerging from the BEAD (Broadband Equity, Access and Deployment) program and other government broadband subsidy programs focused on serving rural and unserved areas.
Fiber JV is 'a bit different'
The proposed "Gigapower" joint venture with BlackRock still isn't closed, but the initial plan is for the JV, backed to its own operating team, to deploy fiber to an initial 1.5 million locations outside AT&T's legacy wireline footprint. "I would expect that number to grow over time," Stankey said.
Stankey said this "risk-sharing collaboration" aims to provide a "different investment thesis" for expanding AT&T's fiber reach. "We believe Gigapower provides us long-term financial flexibility and strategic optionality."
Stankey acknowledged that the JV model is "a bit different" and presents something new for AT&T's investor base to chew on. But he said the plan is to be transparent on the various attributes that will be used to determine the JV's success, including average revenues per user (ARPU), penetration rates and overall returns on investment.
"We set up this first tranche [of 1.5 million fiber locations] to be able to come back to you over the course of 18 months and give you information that raises your confidence" in the model, Stankey said.
That buildout total could rise as AT&T demonstrates that it has the "numbers to back it up," he added. Stankey also suggested that AT&T could do some similar out-of-region fiber buildouts in-house.
"But if we need more scale and need more scale and need to do it faster, we have a vehicle set up to increase funding and capacity in that entity to take advantage of that," he said.
Drawing a bead on BEAD
AT&T's third fiber bucket – BEAD and other government subsidies – is still being developed. But those builds will be incremental to the company's aforementioned target of 30 million-plus residential and business locations.
Stankey offered a sense on anticipated timing around BEAD funding and future buildouts.
AT&T doesn't expect to "see any substantial shovels in the ground and certainly customers being served in any substantial way this year," he said. "But I do think you're going to start to see projects and monies awarded before we exit this year."
Stankey said volume BEAD rollouts could start to come online in 2024, particularly among some of the bigger US states.
Fiber fuels broadband, but buildout pace 'a little disappointing'
AT&T's fiber buildout drove broadband subscriber growth as the erosion of its base of legacy VDSL and DSL subs continued.
AT&T tacked on another 280,000 fiber subscribers in Q4 2023, just ahead of the 271,000 added in the year-ago quarter. AT&T ended 2022 with 7.21 million fiber connections. Fiber penetration reached 38% in Q4, up 1% from the year-ago period. Fiber ARPU reached $64.82, up from $59.57 a year earlier.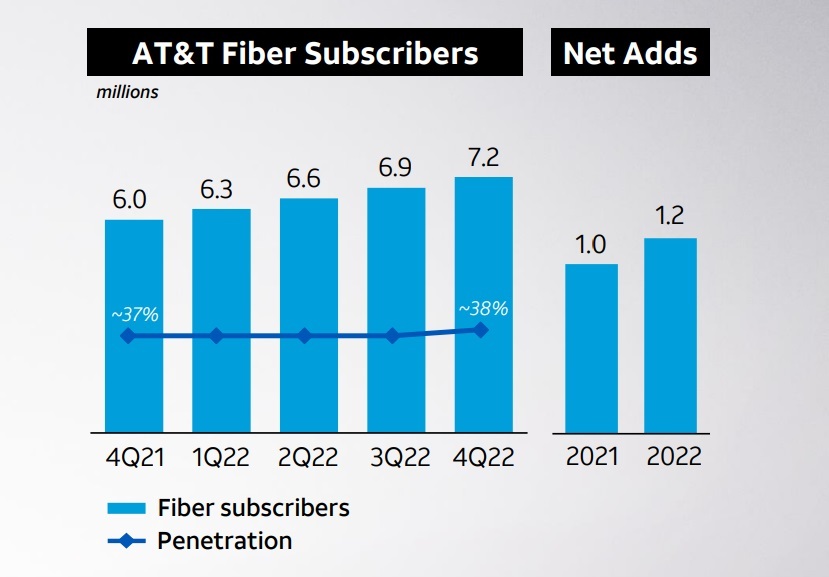 AT&T added more than 1.2 million fiber subs in 2022, the fifth-straight year in which the company has added more than 1 million, Stankey said. "We've now reached an infection point where our fiber subs outnumber our non-fiber and DSL subscribers."
AT&T shed 323,000 non-fiber subscribers in Q4, widened from a year-ago loss of -272,000. Factoring in those non-fiber losses, AT&T shed 43,000 total broadband connections in the quarter, versus a loss of just 1,000 in the year-ago quarter.
As for fiber buildouts, AT&T ended the quarter with 19.1 million locations served, up from 18.5 million in the prior quarter and 16.2 million in the year-ago quarter.
AT&T's fiber network buildout pace in 2022 is "a little disappointing," the analysts at New Street Research said in a note following the release of AT&T's Q4 numbers. They pointed out that, at the start of 2022, AT&T had suggested they would pass 4.5 million new locations with fiber, but passed just 2.9 million.
New Street Research attributes the slowdown to an acceleration in 5G capex that pulled back some fiber spending, and possibly because AT&T's been deploying fiber at a faster pace than it can sell and install the product.
"They may be slowing the build so they aren't deploying capital ahead of when they can use it," the analysts explained. The analysts are also hopeful that AT&T's current 30 million target proves an "interim goal" on the way to 45 million. "This may still prove true, though there is nothing in 2022 results to support it," they said.
Related posts:

— Jeff Baumgartner, Senior Editor, Light Reading
EDUCATIONAL RESOURCES

PARTNER PERSPECTIVES
- content from our sponsors