Bresnan Whips Up Wireless Strategy
Joining a growing list of cable operators adding wireless extensions to the hybrid fiber/coax (HFC) plant,
Bresnan Communications LLC
has activated a WiFi grid in Billings, Mont., in tandem with
Fujitsu Network Communications Inc.
and
BelAir Networks Inc.
Fujitsu handled the bulk of the planning and integration work, while BelAir supplied its outdoor wireless, strand-mounted nodes that hook into the cable architecture via Docsis 2.0-compliant interfaces.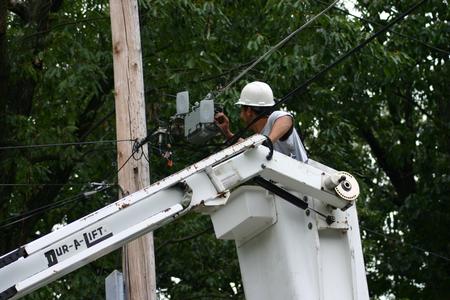 The companies did not say how many of these nodes were installed to create the wireless canopy in Billings, nor would they discuss costs.
Bresnan initially will offer wireless connectivity for free to its high-speed cable modem subs and is looking to charge a "nominal" fee to other users who want to link in. Bresnan's WiFi network reaches into some area university and state government offices, but the MSO is still in the process of deciding how it might bill for services there, according to Shawn Beqaj, Bresnan's director of government affairs and community development.
Although Bresnan is still testing the types of services and applications it can run on the wireless grid, the operator is treating its WiFi as a commercial deployment.
"From a technology perspective, it's not a trial. It's clear that it works," Beqaj says.
Bresnan, which serves north of 300,000 customers in parts of Colorado, Montana, Wyoming, and Utah, has about 30,000 customers in Billings. Of those, approximately 8,000 take a voice, video, and data bundle, and about the same number take at least two Bresnan products.
BelAir, which created a cable Technical Advisory Committee in 2006, claims to have deployments with nine of the top U.S. cable MSOs, but most of them are unannounced.
Bright House Networks
teamed with BelAir on a WiFi network for Winter Park, Fla., but that deployment does not involve Fujitsu.
On the competitive front,
Cisco Systems Inc.
(Nasdaq: CSCO) recently introduced an MSO-targeted WiFi-based mesh system called Cable ServiceMesh.
BendBroadband
of Oregon is among the early takers. (See
Cisco Meshes With Cable
.)
Creating wireless broadband hotspots is just one of a several applications MSOs are using BelAir's equipment for. Some are extending the reach of enterprise customers or deploying municipal networks, although business models for the latter have come under fire, particularly after
EarthLink Inc.
(Nasdaq: ELNK) dropped out of a high-profile project in San Francisco. (See
What Now for Muni WiFi?
)
MSOs are also exploring WiFi as a
cellular backhaul alternative
, according to Jim Freeze, BelAir's senior vice president of marketing and alliances.
Bresnan, meanwhile, will see how things in Billings shake out before making any further wireless-related decisions. Beqaj calls Billings "friendly territory," because the MSO already has decent relationships with the local government and runs a call center there.
In addition to providing service for Bresnan's WiFi net, Fujitsu is also handling site surveys, remote technical assistance, and technical training.
— Jeff Baumgartner, Site Editor,
Cable Digital News
PARTNER PERSPECTIVES
- content from our sponsors