5:10 PM -- Boxee thinks it's just handed the cord-cutting crowd a big pair of scissors.

"Let the cord cutting begin!" proclaims this blog post from VP of Marketing Andrew Kippen. He's announcing a $49 USB-connected dongle/antenna that lets the Boxee box accept live, over-the-air digital TV broadcasts and integrate them into its fancy navigation system. (See Boxee Tees Up Live TV Cord-Cutting Tool .)

The pitch is to offer an over-the-top/over-the-air combo that includes some interesting social networking capabilities, thus giving consumers an alternative to a traditional cable subscription package. But Boxee's box, which retails for $179.99, isn't exactly cheap either.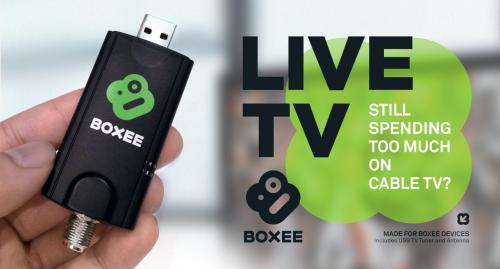 The new live TV piece does seem to be a nice way to add value though, much as Boxee did when it added a SlingPlayer app late last year. And it has some designs on other features users want, acknowledging today that it will "make an announcement later this year about DVR support if we can make it happen." (See Boxee Adds a Video Sling .)

For now, the Boxee box, with the help of this new dongle, can access free OTA digital channels, which can number 50 or more depending on the market and how clear a signal you can get. If you can live without ESPN, AMC, Discovery and other popular cable channels or are simply tired of paying for them, then perhaps the idea's got some legs. I'm still not convinced that what Boxee's put together so far is a cord cutter's dream, but adding OTA support is a smooth move.

It gives Boxee another opportunity to take another shot at the cable industry and its pricey pay-TV tiers and "the same boring interface" -- things that MSOs are at least trying to rectify with the introduction of less expensive, sports-free tiers and, soon, new cloud-based interfaces. (See Cox's $35 'TV Economy' Tier Launches Sans ESPN and Comcast's Web-Slinging Set-Top Visits the FCC .)

Boxee's been known for its anti-cable attitude, but it's also interested in working with the industry it's been so fond of chiding, telling FierceCable that it has "deals in place" to sell its wares to cable operators.

Kippen told me that Boxee has "no deals with cable operators that I can comment on," but did note that the company's been in conversations with MSOs. "In the process we've discovered that for providers, the margins are much better for broadband than cable TV, whose margins continue to decrease as content costs rise."

It's absolutely true that subscription video margins are wafer thin while the margins on broadband services remain quite healthy. While seeing major MSOs dump the pay-TV business in favor of a dumb-pipe model seems far-fetched for the foreseeable future, smaller operators might at least entertain the idea.

In fact, we've already seen some of this take place in the telco TV world. Ringgold Telephone Co. Inc. found its IPTV business to be so unprofitable thanks in part to bulky retransmission fees that it pulled the plug on it in favor of reselling Dish Network LLC (Nasdaq: DISH) video service. Taking it a step further, the company was also considering a promotion that bundled its broadband service alongside a video streaming device and an off-air TV antenna. (See IPTV Pioneer Now Going OTT.)

— Jeff Baumgartner, Site Editor, Light Reading Cable