AUSTIN, Texas -- Big Communications Event -- Central to success in the software-driven network transformation is cross-industry collaboration and a forward-thinking mindset, according to Intel's Lynn Comp -- a theme echoed throughout last week's BCE.
Comp, senior director of the Communications Service Providers Business Acceleration Team in the Network Platforms Group at Intel Corp. (Nasdaq: INTC), described the challenges and opportunities of the "Connection Effect," where the communications industry is in the midst of preparing for the surge of traffic from connected devices, and the need to manage multiple transformations at once, such as 5G, IoT, NFV/SDN and cloud. By 2021, 75% of all devices connected to the mobile network will be smart, and 99% of mobile data traffic is going to be tied to these smart devices, said Comp. Key to leveraging these technologies is optimizing the network for this flood of traffic.


"The network is like oxygen," said Comp. "Many people forget how important it is until we don't have it. Always remember that the network is so core and so key to unlocking the opportunities."
From Intel's standpoint, one key component to the network transformation lies in distributed data centers, which allow for computing and analytics at the edge.
"Distributed analytics are really, really critical to sending the right data over the backhaul as opposed to all of the data," said Comp.
In addition to describing Intel's vision for analytics and the importance of software scalability, Comp emphasized open source, standards and interoperability in driving innovation in the industry.
Specifically, she touted the importance of "open source applied correctly and understood for what it's amazing at, which is being able to leverage the collective millions of developers around the world who have ideas, who can hash out code. Because no one is going to have enough software engineers that can replicate or reinvent everything that a worldwide community can do," said Comp.
Intel connects to that collective ecosystem is via Intel Network Builders, which has 260 members and 82 partner solutions include POCs, trials and deployments. The goal behind Network Builders is technology enablement, co-marketing and industry education -- the program includes free online education from Intel and partners on topics like management and network orchestration (MANO), cloud, open source and more.
"Our focus is driving network transformation by making innovation and tech-enablement something that's more consumable and easy to find," said Comp.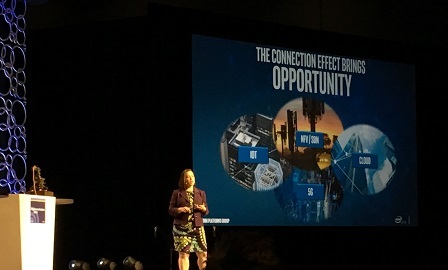 Comp closed by reinforcing the benefit of cross-industry collaborations in generating collective learning that in turn creates new revenue opportunities from the connection effect.
"You as a service provider and you as a supplier have so much ability to set direction and help accelerate this move in the industry. Our ask is please contribute -- we've put in a start point from what we know, but we're not running a network, so please come in and be part of that community," said Comp.
— Kelsey Kusterer Ziser, Editor, Upskill U