The price large corporations and ISPs pay for Internet access has been cut in half over the past year, according to new data from the research firm TeleGeography Inc. But that won't necessarily crush carrier revenues.

The average price that the companies pay for STM-1 (155 Mbit/s) connectivity to global Internet fell by 55 percent in U.S. cities and by 49 percent in Europe over the past 12 months, TeleGeography says. In Asia, prices declined at a comparable rate, but are still twice as high as those in the U.S. and Europe.

The reason behind the price decline are twofold -- and fairly obvious, according to TeleGeography senior research analyst Alan Mauldin. First of all, the cost to provide the bandwidth is dropping, so carriers can charge less. Second, there's the sheer abundance of service providers. "There's a lot of competition now with so many people selling the same thing," Mauldin says.

Prices in Asia appear to be running above declines in the U.S. and Europe mostly due to regulatory restrictions, Mauldin says, but he thinks prices will continue to stay high due to greater growth and demand there. He says Internet traffic may grow fast enough to offset price declines for some service providers and the data indicates that traffic may have been at or below the rates that prices fell over the last 12 months.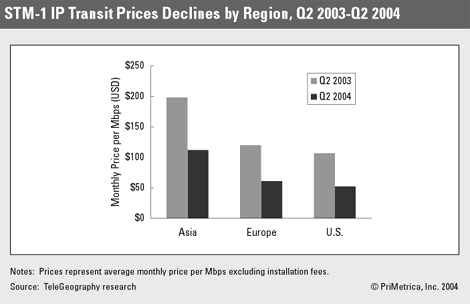 However, despite the price declines, carriers may not be losing out on overall revenue. "Demand is growing. Demand won't ever decline for Internet service," Mauldin says. He also points out that consolidation in the industry may eventually hold up prices.

Last year, prices in Hong Kong fell by 50 percent, but that was offset by international Internet traffic growth of more than 350 percent there, TeleGeography data shows. "You can have some price declines, but revenue won't be devastated," Mauldin says.

— Jenny Spitz, special to Light Reading