Viavi Takes Big Step on Automation Path

Comment (1)
The road to automation is paved with data collection points, and Viavi aims to unify the information they amass on a single network management platform.
With the announcement today of its new Nitro solution, Viavi Solutions Inc. is introducing technology that is meant to bridge the world of physical test and measurement tools to the future of network management in virtualized systems. The platform combines data collected from existing Viavi products deployed by operators around the world with new information that will be gathered through Nitro software solutions that Viavi will debut over the next several months. By marrying the two types of data together, Viavi expects to lead the way in enabling real-time automated network management for service providers.
"We have been acquiring a lot of different technologies over the last four or five years," says Viavi CTO Sameh Yamany, "so now this Nitro... it's a platform that is adding a value and bringing intelligence, but behind the scenes [it's] also bringing all the disparate technologies that we have been acquiring over the years on to one single platform."
Viavi's investments mean that the company is now offering solutions for mobile, fiber, cable, cloud and enterprise networks. These solutions arm operators to manage not just today's network operations, but also operations in the future that include newer technologies like DOCSIS 3.1 in the cable industry and 5G wireless services in the mobile sector. Further, as access network technologies converge, Viavi's new Nitro platform should enable operators to see and automate functions across multiple network types.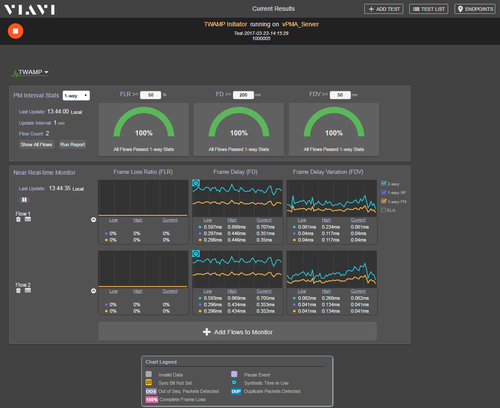 In the near term, Viavi is using a step-by-step approach to introduce different Nitro platform functions. This month, Viavi is starting with the launch of Nitro vNet Fusion, an application that does network testing for virtualized services like SD-WAN. In January, the company plans to debut Nitro Enterprise for testing software systems in the enterprise cloud. Then at Mobile World Congress a month or so later, Viavi intends to unveil Nitro Mobile for delivering wireless services including those based on 4G and 5G technologies and the Internet of Things. And finally, toward the end of the first quarter, Viavi is scheduled to unwrap Nitro TechFlow, a workforce automation solution that should help operators better manage their field tech operations as their networks continue to grow in scale.
"If you take a closer look at Viavi... the breadth of what we're doing is really lending itself to what is the inflection point in the industry," says Yamany. "It is really about bringing all of these services together, virtualizing a lot of these services so there [are] no more silos anymore."
---
Want to know more about the emerging SDN market? Check out our dedicated SDN content channel here on Light Reading.
---
So is Viavi delivering something that service providers actually want? Well if BT is any indication, the answer is a definitive yes. As BT's technology chief Howard Watson noted earlier in the week, the next step in BT's automation journey is auto-healing networks enabled by "real-time telemetry, decision engines and intervention tools." (See Automation Opportunities a 'Top 5' Topic for BT, Says Tech Chief.)
That's what Viavi hopes to deliver -- real-time analytics that cross legacy physical and newer virtualized network systems and that power automated responses designed to optimize network performance.
— Mari Silbey, Senior Editor, Cable/Video, Light Reading
PARTNER PERSPECTIVES
- content from our sponsors
GUEST PERSPECTIVES
- curated contributions