SAN FRANCISCO -- NXTWORK 2017 -- Contrail has turned into a lot more than an SDN controller for Juniper. It's becoming a platform that will be the foundation of Juniper's network automation in a multicloud world.
A taste of Contrail-as-platform was announced today at NXTWORK, Juniper's annual customer conference. The new product and service is called Contrail Enterprise Multicloud and it's a single orchestrator for an enterprise's multicloud environment -- that is, it orchestrates workloads across a mixture of private clouds, multiple public clouds and on-premises deployments.
It's like a supercharged version of Contrail Cloud, Juniper's offering for orchestrating the telco cloud. (See Juniper Enhances Contrail Cloud.)
"The idea [is] that we're taking all the power that Contrail already had, in being one of the most popular SDN overlay infrastructure in the world, and enhancing it with support for underlay and support for public cloud," said Bikash Koley, Juniper's recently appointed CTO, during the morning NXTWORK keynote. "We have the software so you don't have to do it yourself."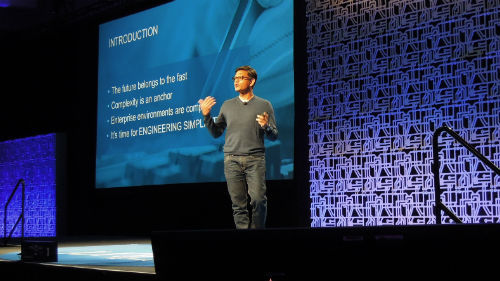 Koley didn't get into details, such as whether Contrail Enterprise Multicloud is immediately available.
Juniper acquired SDN controller startup Contrail in 2013. An open-source version exists -- it's called OpenContrail, and it's become a Linux Foundation project, as Juniper announced today -- but Koley was talking about Juniper's commercial version.
CEO Rami Rahim called Contrail Juniper's "secret weapon," because the company hadn't previously talked about its ambitious plans for the product.
"Its use cases have thus far been somewhat limited, but there's a next act to Contrail, one that we have been working on for several years," Rahim said. Beyond the multicloud use case, Juniper envisions Contrali becoming the controller platform behind SD-WAN and the public cloud.
The overarching theme of NXTWORK is simplicity. This was obvious from the start. As the audience filed into the conference's plenary space, artsy slides featured featured quotes from the likes of Albert Einstein and Leonardo da Vinci, talking about how essential simplicity is, and how difficult it is to achieve.
Simplicity is imperative in the coming world of multicloud deployments, Rahim stressed. It's not just that customers will spread workloads around multiple clouds.The trend toward edge computing means more functions and more infrastructure will be distributed farther away from the cloud, creating a more complex network.
"Enterprise is way more complex than any of the hyperscalers are," said Koley, who previously worked at Google and has experience building a hyperscale cloud. Google and its ilk had the advantage of building from scratch, with no regard to legacy appliations, and they built a network that had to deal with a small set of applications. The enterprise is a lot messier, he said.
Related posts:
— Craig Matsumoto, Editor-in-Chief, Light Reading