Here's How CenturyLink Is Cutting Capex

Comment (1)
CenturyLink is combining "robust" spending scrutiny with synergies from its Level 3 merger to reduce capex by three percentage points for calendar 2018, CFO Neel Dev said at the UBS Annual Global Media and Communications Brokers Conference.
CenturyLink Inc. (NYSE: CTL) drove down capex by putting in "robust processes" to "make sure we're getting a return on every dollar of investment," Dev said in a Tuesday Q&A with a UBS analyst. "We look at every investment to make sure it's in line with our future strategy." Additionally, CenturyLink saw savings through its 2017 Level 3 merger, enabling the redeployment of network capacity and equipment. (See A Deep Dive Into CenturyLink's Operations Transformation & Roadmap and CenturyLink Splashes $34B on Level 3 Buy.)
CenturyLink plans to reduce capex from its original outlook of 16% of total revenues to $3.15B to $3.25 billion, the company said in its earnings call last month, for the third quarter ending September 30. The new capex spending is about 13% of total revenue, based on projected 2018 EBITDA of $9 billion to $9.15 billion.
Dev and UBS kicked off Q&A by discussing integration between CenturyLink and Level 3. "We're at a point where we are operating as one company," Dev said. The combined company has aligned much of its its organization, customer relationship management (CRM), enterprise resource planning (ERP), North American and European operations, product disposition, network interconnection and major processes.
CenturyLink is ahead of schedule on the integration, achieving more than 90% of its goals of $850 million synergies in the fourth quarter, with more savings to come, Dev said. The company planned to reach its goal over three years, but instead was able to hit 90% of goal in four quarters, Dev said.
CenturyLink sees continued cost transformation in three categories, Dev said. First is moving services from off-net onto its own network, which can achieve $300 million savings in network expenses.
The second category is "overall digital transformation of the business." The company wants to move all its customer touch points to digital interactions. "We've trained our customers to call us. We want to change that; we want them to digitally interact with us," he said. Additionally, CenturyLink wants to transition away from manual billing, and provide self-service delivery assurance. These transitions will both improve the customer experience and boost CenturyLink's cost structure.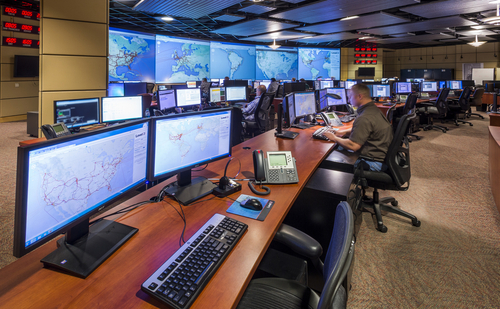 The third category is network and infrastructure simplification, transitioning from legacy services such as voice switches. As usage of those services decline "there is an opportunity for us to really optimize space, power maintenance and other costs," but those costs will take time to achieve, Dev said.
CenturyLink has seen revenue decline. In the third quarter, revenue fell for the third straight quarter, down 3.6% to $5.82 billion
The company has been focusing on profitable revenue, and exiting some unprofitable contracts, Dev said. CenturyLink has shifted the focus away from IT, managed services, and CPE where it isn't paired with network services, as well as slowly declining legacy products like voice, Dev said.
And to counter the revenue decline, CenturyLink is looking to grab enterprise market share and is seeing demand, bandwidth and connectivity requirements grow in that market, Dev said.
Weak enterprise telecom spending hasn't been a problem for CenturyLink, Dev said. "We're leaning into the enterprise marketplace," he said. The company is "taking share" and "pricing dynamics are good," as are demand trends. Technology transition away from legacy service drives down average revenue per user (ARPU) initially, but the business grows over time as "demand grows, bandwidth grows, connectivity requirements grow," he said, adding that demand trends are healthy.
SD-WAN plays a role in CenturyLink's future. CenturyLink sees SD-WAN as "just another part of the product portfolio," Dev said. SD-WAN is cheaper per node than MPLS and also less expensive than 100Gbit/s connectivity. But CenturyLink isn't selling single node networks, outside of its SMB business; it sells 200-400-node networks. And SD-WAN lets CenturyLink win more business, with customers with international locations and locations not addressable to CenturyLink previously.
On its consumer business, CenturyLink is seeing decline driven by its linear video business, which CenturyLink stopped marketing in the first quarter, as well as declining voice business, Dev said. "I think there is an opportunity for us to improve the performance of our broadband business. And we have a series of initiatives in terms of micro targeting to really figure out how we improve the performance of that business with increased penetration," he said. Twenty-megabyte speeds in an urban market where CenturyLink faces competition are a different proposition than in a rural market where CenturyLink is the only alternative.
CenturyLink is moving from copper to fiber on its consumer network, contributing to the capex savings.
— Mitch Wagner




Executive Editor, Light Reading
PARTNER PERSPECTIVES
- content from our sponsors