Service assurance data will play a key role in how network operators bring automation to their service engines, but how that data is used is changing significantly in the process. Increasingly, service assurance data will be part of "closed loops" that use constant assessment of network traffic and performance to optimize service quality, detect threats and do other things on an automated basis, without human intervention.
This shift is all part of the virtualization transformation, and plays a key role in network operators' ability to offer new services which change with customer needs, without requiring network reconfiguration or a lot of human touch.
Vodafone Group plc (NYSE: VOD) is testing these closed loop systems in its laboratories and has built them in at multiple layers of its target architecture for software-defined networking/network functions virtualization, says Lester Thomas, chief systems architect. The company is following the TM Forum 's Zero-touch Orchestration Operations Management (ZOOM) model, moving away from building static networks as solutions to customer problems and using a more virtualized network platform to create an intent-based model and deliver services that can adapt to changing needs.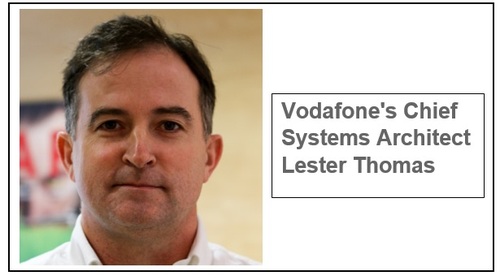 "You can orchestrate a network solution that meets that intent but then you constantly monitor that using your assurance," Thomas explains in an interview. That constant monitoring will, in a closed loop system, optimize how the service is delivered in real-time. That includes immediate recognition and remediation of any issues -- including congestion, outages or security problems -- and automatic optimizing of network usage, which benefits both the customer and the network operator's bottom line.
"We need to optimize our costs," Thomas says. "The concept is you have this closed loop at multiple levels in your architecture, to constantly optimize and remediate any issues in delivering that service."
For example, as Vodafone demonstrated earlier at Mobile World Congress, if a customer's intent is to have a secure network, instead of providing a static virtual private network (VPN) service, the carrier delivers what it calls VPN Plus, which is a software-defined equivalent that comes with added network functions. (See Vodafone Live NFV Use Cases Powered by Amdocs .)
"As part of the closed loop assurance, we were constantly assessing where there any threats to the network and if the source of data showed that the network was under attack, the closed loop actually installed additional firewall capabilities facing something like a distributed denial of service attack," Thomas says. "The customer's intent was a secure network, so the implementation changed dynamically based on what was happening in the network."
---
Track the heartbeat of the virtualization movement with Light Reading at the NFV & Carrier SDN event in Denver. There's still time to register for this exclusive opportunity to learn from and network with industry experts -- communications service providers get in free!
---
Those additional resources were automatically added, without human intervention, until they were no longer needed, and then the network was again optimized, he said. "When the attack went away, it is optimizing for our cost, because it's a cost to us and to the customer, in terms of latency of their service, to have additional layers of firewalls when you're not under attack."
The notion of closed-loop versus open-loop systems in the service assurance world is one of the key evolutions taking place right now to enable automation of back office operations, says Vikram Saksena, CTO and vice-president of engineering at NetScout Systems Inc. (Nasdaq: NTCT).
"That is an evolution of service assurance, more into a closed loop kind of a format as opposed to an open loop," he says in an interview. "The way things used to be done in the physical world was that the action part was separate from the analysis of network data and the predictions that were being made. Now, with virtualization, service providers want to close the loop and automate so there is hardly if any human intervention."
Saksena views this transition as part of the network operators' drive to be more data-driven and sees service assurance data playing a key role in other ways as well. "We are going from pure-play service assurance focused on network operations to automating all of that, plus helping the planning folks as well as helping the customer care organization in using the data for their own needs," he comments.
The ability to become more proactive and predictive based on service assurance data "takes advantage of the fact that certain elements of the network are programmable and more intelligent than before and can pass real-time information back to you about an event," says Amol Phadke, global network strategy and consulting practice lead at Accenture . "In some cases, the environment is getting simpler, to be more proactive."
Companies such as Centina Systems Inc. are using this network transition to position their technology as a new breed of service assurance, specifically targeting the layers of a virtualized architecture, down to the NFV-Infrastructure, and up through virtual machines to the virtualized network functions themselves, says Anand Gonuguntla, Centina's CEO.
He sees a number of proofs-of-concept for this new world of service assurance, and some frenzy around assuring hot new services such as SD-WANs, but warns that not everyone is ready to make the leap.
"I don't think [network operators] are there yet, in terms of production readiness and mass deployment," he says.
Next page: The benefits of closed loops and smarter service assurance