I got to visit Nortel in Ottawa only after-the-fact. It was 2011, and Ciena had long since completed its acquisition of the Metro Ethernet Networks group, arguably the crown jewel to come out of the Nortel bankruptcy and the source of the packet-optical technology that would become the company's flagship. A Light Reading video crew was invited up for a few days to see some technology and interview a few executives. (See Ciena Goes Terabit.)
That, I believe, is the only time I've spoken with Gary Smith in person. The Ciena CEO has been a Light Reading interviewee many times, but this one was particularly fun -- a video shoot set up in an empty theater at that Nortel campus.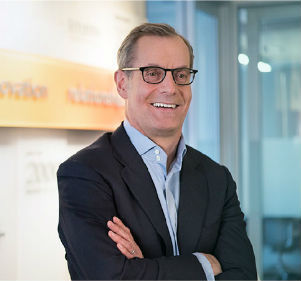 The world moved on, of course. Ciena put a new coat of paint on the place, and the 2015 acquisition of Cyan has given the company a software play at the intersection of NFV and network automation. (See Ciena's Cyan Buy: It's All About the Software.)
Celebrating its 25th birthday last year, Ciena was in the mood to parade Smith to the media just after the company announced earnings in December. I thought it would be a good chance to let him have a victory lap for that Nortel deal, but we also talked about what Ciena has become and what carriers can expect to do with all this software, automation and openness that's swirling around them.
---
Craig Matsumoto: So at this point, I think we can say the Nortel deal went well.
Gary Smith: Listen, it was a good fit both culturally and from a customer point of view and from a technology perspective. It's just been a great combo for us and a super set of people who were looking for a home to focus on their stuff.
It also gave us global scale, which is what we needed. We were a focused technology player then, and we really needed to broaden out. That's really what it gave us -- footprint.
When you look at the M&A activities in our broad space, there aren't many you can point to that have been successful. Seems a long time ago now. It's a brave new world now.
CM: Let's talk about that brave new world. With Blue Planet and all, how do you define Ciena now?
GS: At the heart of it, our focus used to be being the best in the world at moving optical bits. That's not changed. The world still needs to move optical bits, and I think the demand for that will continue to be strong, with the densification of fiber closer to the customer. That's the bedrock of it.
The second element is really: How can we automate those bits? Ciena looks at all the traffic flows. We see the mix of it all. So, we should be really well placed to deliver proactive analytics and network intelligence and an autonomous network.
CM: Blue Planet's been around for a while. I think it was unique when I first heard about it from Cyan; now there are lots of people talking about multivendor automation capabilities. How would you gauge the competition nowadays?
GS: The whole market has sort of evolved. When we entered into this two to three years ago, it was incredibly nascent and everyone was talking about SDN and NFV and virtualization. I think our learning is this: All of those things are actually going to happen and are happening, but the evolution of the ecosystem to be able to fully facilitate it -- to deliver at scale virtual services, outside of things like SD-WAN and things like that -- that is not fully mature yet.
The more pressing need is just to automate the existing processes and services. Our focus is really around providing a DevOps platform with open APIs and a DevOps toolkit and network analytics, really targeted at that automation piece.
CM: How big a role will open source software have here?
GS: It absolutely has a role to play. I think it varies. I think the issue with open source software is that you have to put it in the network and make it work. That's the challenge. You need folks to be able to do that. We're big fans of open source and an open architecture and programmable networking, but if you're a service provider, you've got to make that work in your network.
I think the shift is away from closed architecture, where you've got a single vendor writing all the software for you if you want to make a change. We're in an environment that's a very open architecture, and maybe the service provider is providing some of the software You've got open source, you've got Blue Planet as a domain manager, you've got network analytics, and how you pull all of that together is what I think the service providers are challenged with.