Automation holds a lot of promise to increase efficiency and reduce costs, but these benefits to network operations could come at the expense of jobs -- especially for women.
PwC categorizes the impact of automation into three waves -- the algorithm, augmentation and autonomy waves -- and forecasts that women could experience the greatest jobs impact in the 2020s, during are the algorithm and augmentation waves. Automation of simple computation and repeatable tasks will increase, and the financial, professional and technical services, information and communications sectors will be most impacted during these first two waves.
Men are predicted to experience the jobs impact of automation more during the autonomy wave of the mid-2030s when manufacturing, transportation and retail jobs will be impacted as autonomous robots and vehicles are widely rolled out. The Huffington Post reports that nearly "1.4 million US jobs are at risk from technology and other factors between now and 2026;" on top of that, 57% of those are jobs are performed by women. The impact of automation isn't all doom and gloom -- artificial intelligence, robotics and other smart automation could be a $15 trillion boon to global GDP by 2030, predicts PwC.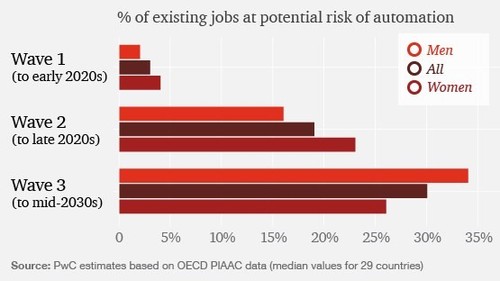 At Light Reading's recent NFV & Carrier SDN event in Denver, panelists at Women in Comms' "Automation's Double-Edged Sword" workshop examined the impact of automation on women in the tech and communications industries, and discussed the importance of reskilling opportunities and company-wide initiatives in preparing employees for the jobs impact of automated environments.
One way to develop relevant skills and keep pace with automation trends is to seek out continuing educational opportunities, which can take a variety of forms. At Sprint, "the Hive" serves as a testbed for continuous process improvement, automation and digital transformation, explained Tracy Nolan, president of National Sales, Strategy & Operations for Sprint Corp. (NYSE: S). Employees at Sprint from a range of backgrounds, not just engineering, can spend a month working in the Hive "to build, test and deliver data-driven digital" services, and collaborate on processes that could be improved by automation.
The Hive "brings people from all different parts of the business to work together and come up with what's best to automate and how to do it," said Nolan in a video interview with Light Reading. "It's a way for people to understand that automation and retool to get into a great role in the future."
During the panel, Nolan said that employees should also take advantage of tuition reimbursement programs offered by their employers. "Show up strong at what you do today but also diversify [your skillsets]," advised Nolan.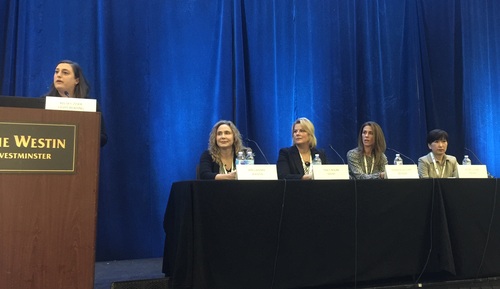 Amy LaFebre, director of Technology, Commercial Data Systems for Verizon Communications Inc. (NYSE: VZ), echoed Nolan's advice that workplace sponsors can encourage colleagues to progress in their career by pursuing new projects and opportunities that can expand their skillsets. LaFebre added that sponsors "help you in a new role you didn't think you were ready for."
"Get the most you can out of a role but continue learning," advised LaFebre. "Be comfortable with change and seek it out."
Next page: Take advantage of in-house opportunities to reskill