Service providers of all stripes are moving rapidly to automate their networks, says one global study, but perhaps surprisingly, security is one of their major concerns in doing that. (See Most Network Operators Expect Full Automation by 2023.)
ACG Research conducted an independent study of 200 service providers and large enterprises globally, sponsored by Ciena Corp. (NYSE: CIEN), and found that 65% of respondents expect to significantly automate their networks in the next five years, and 10% expect to be fully automated. That optimistic forecast did somewhat surprise Tim Doiron, principal analyst of Intelligent Networking for ACG.
"Seventy-five percent is a big number and doing that in five years was a little bit surprising but when you dig into people's thinking, almost everyone would tell you they are some way along on this journey, that they have automated the low-hanging fruit and simpler tasks," Doiron says in an interview.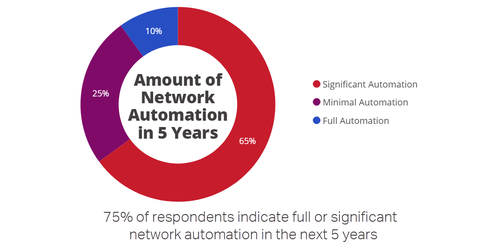 He wasn't surprised, however, that network operators think security is a major challenge they must address in this process, even though automation would reduce the human error factor, known to be significant in security problems today.
"Automation provides an opportunity to help improve the security situation, but there is also fear on the other side of that, which is I can do the right things really fast but if I get it wrong, automation also gives me the opportunity to do the wrong things, very fast, and replicate it and make a bigger issue," Doiron says. "That is the thinking that percolates security to the top of the list of concerns."
Investment in network automation is expected to grow 30% by 2021, the survey shows, and operators told ACG they need to automate to deliver services faster, improve customer satisfaction, support more complex and innovative services and increase business agility. The fifth item on that list is saving operations costs, which largely means reducing head count.
"It's my belief that [reducing] operational costs [is] front and center in people's minds," Doiron says. "But the people we interviewed see that more as an underlying consequence, or underlying result that will happen over time. It's not the top motivation."
He applauds that kind of thinking because putting reduced operational costs first could result in poor service quality, among other things.
"I felt it was mature thinking -- operators realize they have to deliver services faster and drive more revenue, they have to have better customer satisfaction and they have to deliver service in 30 minutes or less, not days or weeks," Doiron says.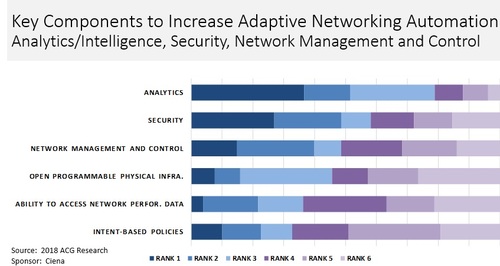 The ACG analyst admits many of the study subjects didn't discuss the inevitable result of automation, i.e., job cuts.
"I think it depends on who you are talking to and what level they might be in the organization and what part of the organization they are managing," he says. "Automation since forever is disruptive, there is no doubt that is true, whether it is building cars or building networks. But a lot of the discussions I've had are around human augmentation. Think about making everyone your best troubleshooter or your best customer care agent."
There are also still inevitable issues around the limitations of existing physical infrastructure and getting things such as real-time reporting implemented on an end-to-end basis for existing networks, the survey noted.
One of the first places automation is focusing is on the metro network segment and Doiron thinks that's a logical place on which many operators will concentrate for multiple reasons.
"It's a space in the network where people thought they could benefit most from automation," he says. "The metro space in general -- optical plus packet switching -- is this merging highway of traffic that is coming from residential, wireless and enterprise and is seeing the destination of its traffic change. It is no longer dropping traffic at the headquarters building, it is headed to multiple cloud entities and data centers and wholesalers. People would like to help make that network simpler and automation would be a way to help with that level of complexity."
Service providers see analytics as the top tool they need to enable automation, by helping them make sense of the overwhelming amount of data they collect about their networks. In general, the industry is getting better at storing data and using analytics to extract what Doiron calls the "golden nuggets" of information on which network operators can act. Analytics/big data, machine learning and artificial intelligence are all part of getting to closed loop automation, where policies direct the network to automatically respond to certain conditions or problems in a self-healing way.
---
Want to hear more about the leading operator use cases for AI technologies? Join us in Austin from May 14-16 at the fifth-annual Big Communications Event. There's still time to register and communications service providers get in free!
---
But Doiron is cautionary on a couple of counts where that level of automation is concerned. He doesn't see any network operators ready to "take their hands off the steering wheel" where operating the network is concern. And he's a bit worried that the hype around AI is causing "everything we've ever done that was semi-intelligent to now be labled as AI."
Ciena commissioned the survey as part of its new Adaptive Network initiative which is focused on transforming "the static network into a dynamic, programmable environment driven by analytics and intelligence," according to the company. Rebecca Prudhomme, Ciena's vice president of Portfolio Marketing, says in an interview that the survey offers a confirmation of where the company is headed.
"It substantiates a lot of the value we believe the Adaptive Network brings, and helps us to get at the way our customers are thinking about network evolution," she comments.
— Carol Wilson, Editor-at-Large, Light Reading