5G mobile networks are set to launch commercially by 2019, with some fixed wireless use cases available by the end of this year. Yet debate remains about 5G's "killer app." What is the main use for 5G and what is the business model?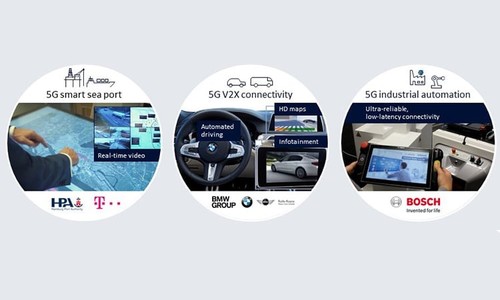 5G will offer higher data rates and capacity achieved by using more radio spectrum and higher spectral efficiency. Yet 5G is about more than cutting connection costs -- its true value will be the substantial impact it has on industries.
This new business area will be enabled by so-called "network slicing." Slices are virtual networks tailored to different applications, with many different slices running on the same network infrastructure. Every application gets precisely the quality of service and connectivity characteristics it needs, such as assured throughput, peak data rate, coverage, reliability and network delay. This transforms the network from a "best-effort" consumer service engine to a predictable connectivity hub, able to meet the connectivity requirements of any industrial use.
Let's look at some of the "killer apps" of 5G in various industries, represented by real projects in which Nokia is collaborating with leading companies to bring significant added value though 5G.
5G for automotive – new driving experiences 5G will offer new possibilities for connected cars, such as providing higher-quality online infotainment or improved networking between cars and infrastructure for automated driving functions. Nokia and BMW have shown dedicated use cases enabled by 5G network slicing. A first slice is used to update HD maps by guaranteeing a defined data rate over longer time intervals. A second slice exchanges time-sensitive data between vehicles with high reliability and low transmission latency, vital for enhanced automated driving. A third slice uses the best possible data quality to stream HD videos to rear-seat entertainment displays. Network slicing will ensure that safety-critical data is always prioritized, enabling new connectivity and information services.
BMW Group Research is developing solutions to exploit the potential of future 5G networks in the car. Beyond this, the telecom and automotive industries are working in the 5G Automotive Association to develop 5G for automotive use.
5G for logistics – new processes in complex environments A major trial by the Hamburg Port Authority, Deutsche Telekom AG (NYSE: DT) and Nokia Corp. (NYSE: NOK) is testing the capabilities of 5G architecture in an 8,000-hectare industrial area at the Port of Hamburg. The complex logistics and connected infrastructure within the port demand a well-designed ICT infrastructure that will face increasing challenges. By 2025, Hamburg will handle 18 million containers each year, as well as tens of thousands of trucks, self-driving vehicles and sensors, requiring a new kind of connectivity.
The main requirements of any port application include resilience, security and support for the different use cases. Dedicated network slices are being used to meet each application's needs. These include better traffic flow by connected, intelligent transport systems; more secure operations using augmented reality; and water gates as well as improved pollution control by connected sensors on moving barges.
5G for Industry 4.0 – new heights in productivity by making factories mobile Modern factories have flexible, movable plug-and-play capabilities enabling additional machines and the plant to be connected wirelessly. Although wireline provides the high performance and reliability needed for automation, it lacks flexibility to meet changing production. 5G is the first wireless technology with the high throughput, low latency and extreme reliability needed to replace wireline, allowing entirely new use cases in industrial automation, collaboration and safety.
Nokia and Bosch have linked advanced robots with wireless perimeter intrusion detection to improve employee safety. Using network slicing, 5G can offer latency of less than 1 millisecond and 99.999% reliability, making it the only mobile technology suitable for Industry 4.0 applications. This makes the inherent flexibility and ease of deployment of wireless connectivity available to high-end industrial automation applications for the first time.
The newly founded 5G-ACIA (5G Alliance for Connected Industries and Automation) helps the manufacturing and telecom industries make 5G ready for Industry 4.0.
Automotive, logistics and Industry 4.0 – three 'killer apps' for 5G In a nutshell, 5G will significantly impact at least three large industries, which are trialling the capabilities of 5G network architecture to enhance driving experiences and connect mobile machines, vehicles and sensors, all resulting in many new possibilities.
— Volker Held, Head of 5G Market Development, Nokia