ATCA Takeoff Is Imminent

Comment (1)
The
AdvancedTCA
(ATCA) market is set to nearly double each year through 2012, creating a $7.3 billion market by the end of that year, according to a
Heavy Reading
report.
That's going to be true even taking into account that prices will drop about 11 percent per year, analyst Simon Stanley writes in
ATCA, AMC & MicroTCA Market Forecast: Revenue Surge Ahead
.
If the numbers prove correct, they mean ATCA -- a set of standards established by
PCI Industrial Computer Manufacturers Group (PICMG)
for telecom gear -- will finally arrive after a few years of stalling. Like a lot of technologies, ATCA, pushed more by chip and board vendors than by carriers, has been slower to take off than originally hoped. (See
Whatever Happened to ATCA?
and
ATCA Success: Moore Proof
.)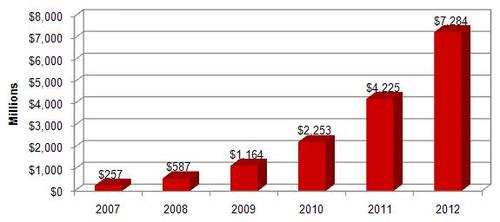 Heavy Reading
's figures take into account only application-ready ATCA systems, meaning finished boxes that an OEM like Alcatel would purchase. That's going to be a lower number than the finished and fully outfitted products the OEMs would sell themselves. (See
ATCA Market Size
.)
So, why has ATCA's time come
now
? Stanley believes it has to do with the technology's breadth reaching the right point. "Although ATCA is far from perfect, it does now meet the requirements of most OEMs for many telecom applications," he writes.
For example, 10-Gbit/s functionality is arriving in ATCA's second generation of technology, and some systems are ready to support 40 Gbit/s per blade. Multicore processors from the likes of
Cavium Inc.
(Nasdaq: CAVM) or
Raza Microelectronics Inc.
are also being supported, pushing ATCA into higher-performance areas.
That last point is key, because
IBM Corp.
(NYSE: IBM), in particular, previously found ATCA's power specs too restrictive to support the latest multicore processors from
Intel Corp.
(Nasdaq: INTC) and others. That's one of the reasons it cites for offering its own BladeCenter platform rather than ATCA-based hardware.
— Craig Matsumoto, West Coast Editor,
Light Reading
---
Interested in learning more on this topic? Then come to
ATCA, AMC & MicroTCA: Off-the-Shelf Platforms for the Converged IP Network
, which will explore the impact these important platforms are already having on the telecom equipment market. To be staged in
Boston
,
September 18
, admission is free for attendees meeting our prequalification criteria. For more information, or to register, click
here
.
---
PARTNER PERSPECTIVES
- content from our sponsors