Asia Takes Broadband Lead
As service providers around the world step up their strategies for broadband, momentum in the market is starting to shift.
According to statistics from
eMarketer Inc.
, the U.S. population has the greatest number of broadband homes, with 34.3 million at the end of last year, but its penetration rate is no longer even in the top ten. The leader on that count is South Korea, which has benefited from an aggressive market and strong government support to reach a massive uptake rate of 73 percent.
Broadband use has especially soared in China, from just 4 million households in 2002 to more than 23 million in 2004. What's more, only 6.5 percent of Chinese households have broadband, compared with 29.9 percent in the U.S., indicating a much greater potential for growth in the future.
This year also marks an inflection point for broadband in the U.S., as the number of high-speed connections has overtaken dialup for the first time.
Ben Macklin, eMarketer's senior analyst, notes three major factors contributing to broadband growth -- availability and choice, government support, and price.
That jibes with
Point Topic Ltd.
's broadband tariff benchmark, which finds prices around the world continuing to fall.
According to its survey of 18 DSL providers and 16 cable operators, monthly DSL subscription rates have fallen by 30 percent since March 2000. Cable modem prices have been falling faster than DSL prices since June 2003, dropping by 21 percent and 12 percent, respectively, during the same period. As the chart shows, the price of cable is now running level with DSL.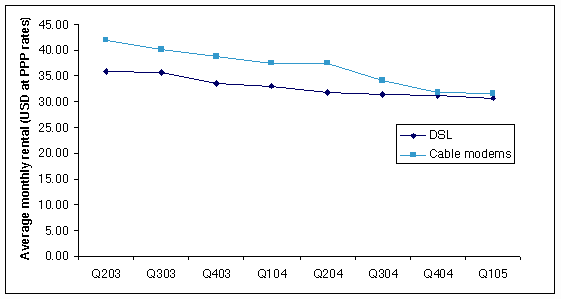 Comparing prices by region, broadband in Europe is becoming cheaper than in North America, with prices even lower in Asia.
eMarketer expects the Asia-Pacific region to account for 145.8 million broadband connections by 2008 -- about 65 million more than Western Europe and 70 million more than North America.
— Nicole Willing, Reporter,
Light Reading
UPCOMING LIVE EVENTS
June 6-8, 2023, Digital Symposium
June 21, 2023, Digital Symposium
December 6-7, 2023, New York City
All Upcoming Live Events
PARTNER PERSPECTIVES
- content from our sponsors