DALLAS -- AT&T Summit -- AT&T and Tech Mahindra have partnered on an open source artificial intelligence platform -- Acumos -- designed to make AI more widely accessible and speed deployment of AI applications.
AT&T and Tech Mahindra unveiled the platform this week ahead of the AT&T Summit. Acumos "provides the capability to edit, integrate, compose, package, train and deploy AI microservices," according to the release. (See AT&T Launches New AI, Microservice Initiatives and AT&T Launches Open Source AI Platform.)
Historically, developing new AI apps has been complex, cost-prohibitive and siloed within separate organizations. Acumos fills a gap in the industry for AI by creating an AI marketplace or app store that lowers the barrier to entry and makes AI apps more accessible to more organizations, says Mazin Gilbert, vice president of advanced technology for AT&T Labs .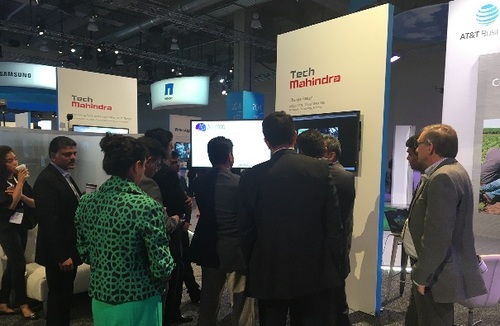 "The problem -- which is why we started this -- is we have tens of these applications. Each of them is a different technology, different tool, different set of people, different vendor, different partner, even a different team inside AT&T," explains Gilbert. "The future is toward more automation and more data-powered automation. How do we go from tens to thousands? The answer is that we can't, it's cost-prohibitive. All these applications are independent of each other … the talent is not that readily available and we need a very disruptive approach about rethinking the whole idea of AI."
Web-scale companies like Google and Facebook are investing heavily in AI but using their own tools within their own domains, he says. Acumos provides a way to take an AI microservice from Google and connect it to an AT&T AI microservice, for example, says Gilbert. Rather than one-off, disparate results, Acumos delivers repeatable microservices, the partners say.
"Acumos helps to stitch together the outputs of many of the great AI tools in the industry so they're Legos, not snowflakes," says Gilbert. "You build a model, you upload it on the platform, the platform makes it a Lego, you can connect it with other Legos without any development. Then if you say, 'I want to run it on Amazon cloud, Google cloud, my cloud or any cloud as a microservice' -- it does it for you. It's just a download and run."
In an area where the talent gap presents a challenge -- especially for smaller organizations -- Gilbert says Acumos is a solution to lower the barrier to entry and make AI app development as easy as building a website. In the app store, users can search, browse and review AI applications to build upon existing algorithms as opposed to starting from scratch. AT&T partnered with Tech Mahindra, says Gilbert, because the challenge of speeding the development of AI applications is a hurdle not only for AT&T but also the industry at large.
AT&T and Tech Mahindra made Acumos an open source platform to provide anyone with the ability to use the service, says Raman Abrol, senior vice president of business unit head for media and entertainment at Tech Mahindra Ltd. In addition, Acumos "checks all the boxes" of Tech Mahindra's COPA philosophy, which stands for co-create, open source, platform and automation, he adds. As more companies utilize Acumos, the value increases for all users, he says.
"We see verticalization of Acumos as the next big step where all enterprises will be able to leverage their data and deliver algorithms and efficiencies to their organization while retaining their intellectual property -- as opposed to using a commercial off-the-shelf solution and training that solution on their data and transferring their intellectual property," says Abrol.
Acumos meshes with AT&T's overarching goal of furthering a software-defined network and, in the future, moving toward a more automated, zero-touch network, Gilbert says.
"The success of this going forward will be companies coming and joining us together and building this -- not as a Tech Mahindra/AT&T/Linux Foundation [initiative] -- but as a global initiative," says Gilbert.
The two organizations developed the first release of Acumos over the course of four months, and the platform is hosted by the Linux Foundation .
— Kelsey Kusterer Ziser, Senior Editor, Light Reading