DENVER -- SCTE Cable-Tec Expo -- No one at Arris Group Inc. (Nasdaq: ARRS) is uttering the word "sling" here at the show, but the company is developing a place-shifting application for a multimedia cable gateway that would let users send live and on-demand video to PCs, smartphones, and other IP video displays via broadband connections.

That's one of the myriad details and roadmap ideas Arris was sharing here to show off some of the handiwork it's completed since purchasing Digeo Inc. from Paul Allen for $20 million. (See Digeo Gives Arris Multimedia Gateway Potential and Arris Digs Digeo .)

And that TV Everywhere concept Arris is vetting probably sounds familiar. It's one of the key selling points EchoStar Corp. LLC (Nasdaq: SATS) has attached to a "SlingLoaded" tru2way box it's marketing to cable operators. (See EchoStar: We're Cable's Answer and EchoStar Slings Its First Tru2way Set-Top.)

Arris executives note that the place-shifting product, which carries the tongue-twisting name of Arris Moxi MG5000 Series Docsis 3.0 Multimedia Gateway, will account for any out-of-home distribution restraints specified by MSOs and programmers. Another issue Arris will be wrestling with is how to provide this capability without putting too much stress on cable's upstream path.

But offering a sling-like approach is just one of the items Arris is looking at as it scratches out its initial feature roadmap for Moxi.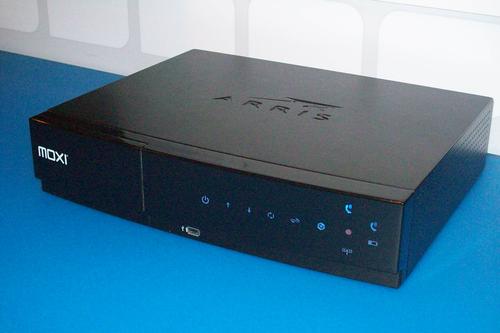 A company official stressed that the specs are still "fluid," but Arris is starting out with a QAM-IP hybrid device outfitted with eight Docsis tuners and 6 QAM tuners, and an on-board Docsis 3.0/PacketCable 2.0 voice modem and a slot to house a multi-stream CableCARD (a version for the European cable market will allow the use of SmartCards). That configuration will not just support VoIP, but can feed in traditional QAM digital video, and managed IPTV and over-the-top video from the Internet, as well.

The gateway will also be "headless," meaning it won't output to a television. Instead, it will become a central demarcation point that will shuttle video and applications via Multimedia over Coax Alliance (MoCA) and Digital Living Network Alliance (DLNA) interfaces to smaller MoxiMate devices and other set-tops (even IPTV boxes) hanging off the home network.

Arris has also started development on an iPhone app to set up recordings and manage other components of the gateway from afar, but the company isn't sure if it will make this into a product.

Arris has not changed earlier statements that its first Moxi-powered cable gateway for MSOs will be ready by sometime in 2011. And it still hasn't decided whether to build a tru2way-based gateway, or to focus squarely on devices outfitted with Digeo's Moxi middleware.

— Jeff Baumgartner, Site Editor, Cable Digital News