Any Truth to the Humor?
2:00 PM -- Did
Light Reading
report that Tellabs is moving its access division to Illinois?
Nope. But a well traveled April Fool's joke makes it look as if we did.
A fake
Light Reading
news article, an image of which is below, has been bouncing around Petaluma, Calif., in the past several days. The article reports that Tellabs "is strongly considering several proposed initiatives that would relocate the company's Access Division to its Naperville, Ill., headquarters."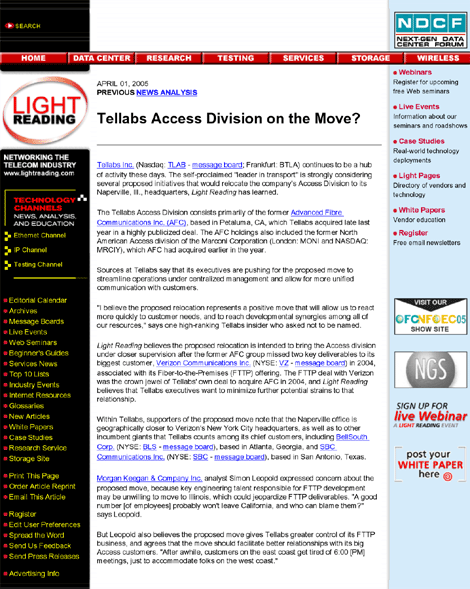 If Tellabs moves its access division, the fake story reports, it could open the door to cost cuts, outsourcing, and other measures:
As a result of the proposed relocation, it is believed that the Petaluma and Miramar, FL, offices will be closed by the end of the year. It is also believed that two offices near Dallas, Texas, which include a customer support center, will be consolidated into one office later this year, though that move may only be temporary.

Light Reading has learned that Tellabs may also be targeting sites in India for relocation of technical support for Access products, particularly following the announcement of the new high-tech support center being built in Bangalore.


Of course, the article was obviously a forgery, considering that it went on for 800 words without a single joke about Naperville (see
No Naperville for Kennedy
). Or Petaluma, for that matter (see
Headcount: A Pox on Petaluma?
). Have we ever shown such restraint?
— The Real Phil Harvey, News Editor,
Light Reading