Even as the prepaid market has picked up steam in a down economy, the services have been limited by a rudimentary selection of basic feature phones. This is starting to change with the help of BlackBerry and, increasingly, Google (Nasdaq: GOOG)'s Android operating system. Sprint Corp. (NYSE: S)'s prepaid arm, Boost Mobile , got in on the action today, announcing its first Android prepaid phone to run on Sprint's iDEN network. (See Sprint Segments Its Prepaid Subscribers .)

The Motorola Inc. (NYSE: MOT)-built i1 will be sold nationally at Boost Mobile retail stores and Best Buy. Boost is billing it as the first walkie-talkie-enabled touchscreen phone powered by Android, although it is not Android's first foray into prepaid.

Leap Wireless International Inc. (Nasdaq: LEAP) also announced an Android phone for its regional cricket service, but the prepaid provider hasn't revealed a launch date. Small telco Cellular South , too, has promised the Motorola Milestone will be available soon, joining the High Tech Computer Corp. (HTC) (Taiwan: 2498) Hero, which it currently offers.

The Moto smartphone is a good step for Boost, which is targeting a growing prepaid population with its value message and $50 no-hidden-costs service plans. But it's still not as capable as its Android brethren. The i1 will run Android 1.5, a few steps behind the latest 2.2 Froyo update and even the 2.1 update that more advanced Android devices today run.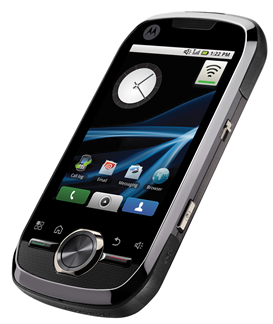 T-Mobile inks deals with Nokia, LG
T-Mobile US Inc. got a slew of new smartphones today, including the Nokia Corp. (NYSE: NOK) E73 Mode, Nokia's latest business-oriented S60 qwerty phone. The handset features Ovi Maps and the Ovi App Store, with the bonus of carrier billing, something T-Mobile has been the only carrier to enable in the US on the Nokia Neuron. (See App Insights: Nokia Ovi Store Professes Relevance.)

T-Mobile also added three new LG Electronics Inc. (London: LGLD; Korea: 6657.KS) phones to its arsenal today: the LG Sentio, dLite, and GS170. The Sentio and dLite will both come preloaded with T-Mobile Social Buzz, the carrier's social network aggregation app.

Nokia goes for a bike ride
Nokia is making moves in the emerging markets as well, introducing four low-cost handsets to augment its C-series suite of devices. The cheapest phone includes double SIM cards that let multiple users share a phone with their own settings or take advantage of cheaper call rates when traveling. The phone can last up to six weeks on standby battery time, Nokia says, making it its most efficient device yet.

Along the lines of efficiency, Nokia complemented its C-series launches with the Nokia Bicycle Charger Kit, which uses a small electrical generator tied to the bike's wheel movement to charge a handset. Where electricity is limited, consumers can go on a bike ride to charge their handsets. Or, Lance Armstrong could power an entire village.

Sprint EVO 4G pre-launch hype
Sprint is upping the hype about its first WiMax smartphone, the EVO 4G, with its first-ever commercial as part of a larger marketing push. The phone is slated to launch tomorrow. Initial reviews suggest its great on Web speed, but poor on battery life. (See Sprint Pins Hopes on WiMax Phone, Sprint to Intro '4G' Mobile TV, and Sprint's $199 WiMax EVO Phone Out June 4 .)



— Sarah Reedy, Senior Reporter, Light Reading Mobile