The speculation that BlackBerry will be acquired by Microsoft Corp. (Nasdaq: MSFT) has been around for sometime, and, more often than not, I think it gets refloated on a regular basis by disgruntled shareholders. However, you can never say "never," and none of us knows with any degree of certainty the motivations and/or objectives of Microsoft. With that as a caveat, here's why I don't think the scenario is particularly likely.

First and foremost, the co-CEOs of the company, Mike Lazaridis and James Balsillie, currently control about 12 percent of the stock between them. That's not what you would call overwhelming, but it's not a small position either, and it means they would have an easier path to gain the necessary votes to block any deal.

What makes it even more difficult is Mr. Lazaridis is one of the founders of the company, and founders don't like being told what to do at companies they've founded. It's a lot like being a parent: You know what's best for your child; you don't need anyone else telling you what is best for that child; and you certainly don't want to see that child wind up in the hands of others.

When you consider the difficulty Microsoft faced in its attempt to acquire Yahoo Inc. (Nasdaq: YHOO), where the founders remained at the company and management controlled about the same amount of the stock, it would be unusually difficult for a deal to be done on anything other than a friendly basis. With that said, I don't see a friendly acquisition being in the cards either.

The drop in a company's stock price doesn't necessarily make it a target for acquisition – friendly or otherwise. As you can see in the graph below of RIM's stock price thus far in 2008, it's been a wild ride for all concerned. Not only is the stock down 44 percent on a year-to-date basis, it's down 57 percent from its high on June 19. Certainly some of that is the broader market sell-off that has taken place with recession worries and the credit crisis, but the reality is that most of it is company specific.

When RIM reported its fiscal first- and second-quarter results, the stock dropped 26 percent and 44 percent, respectively. The company "missed" earnings expectations – but not for the reasons you would think.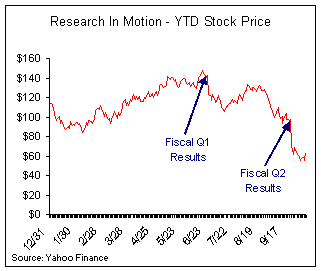 Leading up to the first-quarter conference call (June 25), investors were expecting revenue of $2.27 billion (+110% Y/Y; +21% Q/Q) and earnings per share of $0.85. This was based upon the company's guidance that revenue would be in the $2.23 billion to $2.30 billion range and EPS in the $0.82 to $0.86 neighborhood. However, when the numbers came out they were within the company's ranges but below the street consensus.

First-quarter revenue was $2.24 billion (+107% Y/Y; +19% Q/Q), and earnings per share were $0.84. Despite selling slightly more units than were expected (5.4 million versus 5.3 million) operating expenses (research and development, selling, general and administrative expenses) came in about two percentage points above expectations, and that's something management has control over.

When the company was pressed during the conference call about the operating expense issue, management commented on how it seized upon the opportunity to put in place the infrastructure to meet the growth demands down the road. What added to the concern was the announcement that the elevated spending levels would continue into fiscal Q2 with operating expenses expected to grow another 26 to 28 percent from the fiscal Q1 amount. This created somewhat mixed guidance for fiscal Q2 with revenue expected to be in the $2.55 billion to $2.65 billion range, well above the street consensus at the time of $2.42 billion. However, EPS was anticipated to be in the $0.84 to $0.89 range versus the street's $0.90; hence, the 24 percent sell-off in the stock.

Fast-forward now to the fiscal Q2 results (announced on September 25), which bore little resemblance to guidance below the top-line number. Going into the period, consensus estimates were for revenue to be $2.59 billion (+89% Y/Y; +16% Q/Q) and EPS $0.87. The company actually reported revenue of $2.58 billion, but EPS came in "light" once again at $0.86.

This time around, operating expenses did not grow at the rate suggested on the last conference call. However, at percent sequential growth, they still outpaced sequential revenue growth by eight percentage points. The bigger surprise in the quarter was the company's tax rate, which came in 160 basis points above target. And as was the case in the prior quarter, the outlook for fiscal Q3 was better-than-expected revenue growth and weaker-than-expected earnings per share.

By now you may well be wondering, "What's all this got to do with a potential acquisition?" It's simple.

The stock is down because of the weak earnings and concerns that there's no earnings leverage in the company's business model. However, the earnings are not down by accident, the result of a weak top-line, pricing pressure, or soft unit demand. To the contrary, the revenue benchmarks keep being increased above prior expectations. The weak earnings are due to management's strategy to spend now to enhance the company's future. It's their plan and, they believe, if they execute it successfully, the stock will return to its prior levels and beyond.

Now, as an investor, you can argue as to whether or not you agree with that strategy, and you're always free to take your money and invest it elsewhere. However, the one thing you are unlikely to do at this point is convince management that they should sell the company to Microsoft or anyone else. Management believes it's doing what's in the best interests of the shareholders right now and that their "investments" will benefit all in the long run.

Position: The Telecom Connection Model Portfolio is long RIMM.

— Bob Faulkner, Special to Unstrung. Research In Motion is one of many technology and telecom stocks that Bob Faulkner discusses weekly in The Telecom Connection.