Alternative voice-over-IP providers like Vonage Holdings Corp. could find themselves squeezed out of their own niche by the established players looking to get in on the act, says an Analysys Research Ltd. report on the U.S. market.

VOIP providers, cable operators, and ILECs each face different challenges and need to be dynamic in developing their VOIP business models, but the low prices offered by alternative providers are vulnerable to regulatory requirements and cheap bundling from cable operators and ILECs.

Voice will inevitably migrate to an IP infrastructure regardless of the market, according to Analysys, but the future of VOIP as a mainstream end-user service is less certain.

VOIP penetration is predicted to reach 17 percent of households with broadband access and 23 percent of broadband-enabled small businesses by 2008, accounting for 13 million subscriptions.

But Analysys points out that although VOIP will fragment and redefine the U.S. telecom market, service revenue from consumers and small businesses will reach $5.7 billion in 2008, a fraction of total telecom revenue, which was $224 billion in 2003 (see Analysys: VOIP a Turning Point).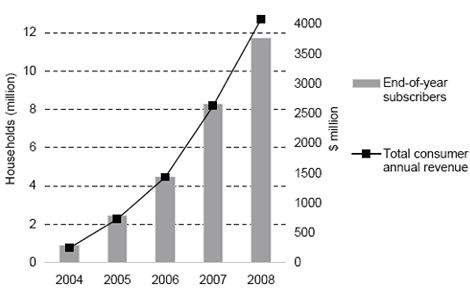 Cable operators, with their dominance of the broadband access market and triple-play services, are in the strongest position to take VOIP to the mass market and generate new revenue streams. ILECs will likely be forced to adopt VOIP as a value-added service to avoid losing market share and to boost DSL sales.

Alternative providers still have nothing to lose in the short term, notes Analysys, as they signal the end of voice as a monolithic service.

— Nicole Willing, Reporter, Light Reading