Ditech Communications Corp. (Nasdaq: DITC) has spawned an optical switch startup -- and it claims the new company's product has at least a thousand times the port density of any switch to date.

But for a number of reasons, the new startup will probably have to prove its claims in live trials to be believed.

Ditech's created a wholly owned subsidiary, Altamar Networks, for its product, and both are being introduced today. Called Titanium, Altamar's switch is said to offer up to 16,384 OC48 (2.5 Gbit/s) or OC192 (10 Gbit/s) ports and use less space than any other optical switch on the market today.

Altamar says Titanium is a provisioning switch that offers DWDM (dense wavelength-division multiplexing) and network management capabilities. It has an electrical backplane, which would put it into the competition with switches from Brightlink Networks Inc., Tellium Inc., and Sycamore Networks Inc. (Nasdaq: SCMR) (see Optical Taxonomy page 7 for clarification).

So far, those competing switches offer about 512 to 1,000 ports. Altamar says Titanium offers 16,384 -- and will offer 2 million by 2003!

On closer inspection, though, it looks like reality is a bit less dramatic than Altamar claims -- at least right now. The company says that its switch supports just 128 ports per unit at present.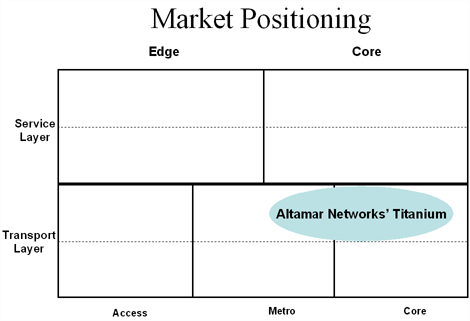 Still, Altamar maintains that Titanium takes fewer units than other vendors to support its maximum density. Specifically, Altamar spokespeople say Titanium supports a total of 16,384 ports in a multiple-switch configuration that is set up to act as a single switch.

This single-switch setup includes enough gear to fill 56 telecom bays (three-shelf racks designed to hold gear). Other vendors' switches, Altamar says, would consume about 600 bays to provide the same capacity.

Altamar says it achieves its scale in part by using short-reach, parallel fiber connections between its transponders and switches, instead of relying on 1310-nanometer links for inter-switch communications, as other vendors do.

Altamar's announcement has left some analysts skeptical. "If they can support the kind of capacity they claim to, it would be great," says Nancee Ruzicka, program manager at The Yankee Group. However, she says the startup would have to be doing something "pretty special" to overcome issues of power and rack space that have vendors such as Tellium claiming triumph in offering fewer than 1,000 ports.

Another puzzlement is how a switch of this size could emerge from Ditech. The company's chief claim to optical fame comes from its purchase last year of Atmosphere Networks for about $85 million in stock and $10 million in cash (see Atmosphere Comes Back to Earth). That purchase, considered a cheap deal at the time, was said by some to be a last-ditch effort to save a company that had bet on the wrong technologies (see Hazy Atmosphere Hangs Over Ditech).

Ditech claimed last year that it had bought Atmosphere for the employees. And indeed, it's managed to hold onto some key engineers. It's even added to the original 55 employees. Now 60 engineers work at Altamar.

But the question remains: Can a startup that banked on ATM-based Sonet really have produced a switch to beat Tellium's?

Ditech certainly hopes that it has. The company, which makes echo cancellation gear, had a disastrous third quarter ending January 31, 2001, in which revenues were $13.3 million, down 60 percent from the same time last year. Ditech, whose revenues come largely from five customers, is also fighting for its life against vendors like Nortel Networks Corp. (NYSE/Toronto: NT), which recently started bundling echo cancellation into their gear, threatening to displace Ditech's offerings.

Ditech says it's formed Altamar in order to gain focus and credibility in the optical space. It says Altamar already has several carriers looking over its switch, and at least one has committed to buying it.

-- Mary Jander, senior editor, Light Reading http://www.lightreading.com